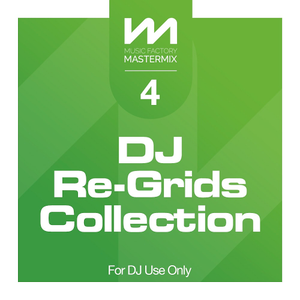 Mastermix DJ Re-Grids Collection Vol.4 (2023)
MP3 320 kbps | 2:56:21 | 404 Mb
Genre: Gangsta Rap, Hip Hop, Glam, Hard Rock, British Soul, Post-Disco, Rhythm and Blues, Reggae, New Wave / Label: Music Factory
Mastermix DJ Re-Grids Collection Vol. 4 is designed and signed as a reference on your choice of several exchangers file. DJ Re-Grids Collection 4 features another 50 classic, original tracks re-engineered to deliver fixed-tempo, quantize-locked beatgrids. Easily and seamlessly blend those difficult or even 'unmixable' tracks, add digitally accurate hot-cues for fast navigation. All DJ Re-Grid tracks are also freshly levelled and mastered to sound pristine in quality, with attention given to correct any 'DJ standard', 4/4 beat/bar deviations plus improving intros/outros and sections where needed for easier, more creative DJ mixing! The tracks featured in this collection are reworks of the Radio Edit versions of the original track* Unmixed.