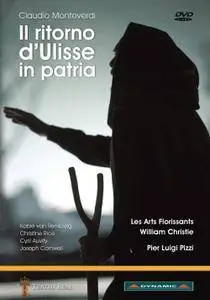 William Christie, Les Arts Florissants - Claudio Monteverdi: Il Ritorno d'Ulisse in Patria (2010)
NTSC 16:9 (720x480) | Italiano (LinearPCM, 2 ch) | (Dolby AC3, 6 ch) | 182 min | 7,40+6,37 Gb (2xDVD9)
Classical | Label: Dynamic | Sub: Italiano, English, Francais, Deutsch, Espanol | Recorded: 2009
In 1641 Monteverdi made this masterpiece based on Homer's Odyssey for a public opera house in Venice. It has more characters than you can shake a stick at – presumably one reason why William Christie chose to direct it from the harpsichord – so it needs a cast that has strength in depth. Luckily, these performers from the 2009 production at the Teatro Real in Madrid are superb. Christine Rice gives us a finely-paced Penelope, full of complexity beyond the merely stoical, and with a dark voice that signals restrained fury as well as painful neglect.