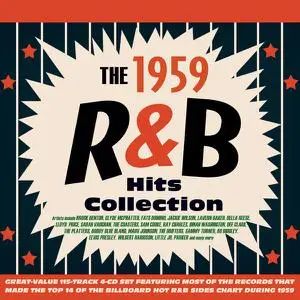 VA - The 1959 R&B Hits Collection (2023)
MP3 CBR 320 kbps - 697 MB
4:50:35 | R&B, Soul, Pop, Blues | Label: Acrobat
This continues the strand of R&B and country collections associated with Acrobat's highly popular "America's Greatest Hits" series, this one focusing on the top R&B records in the US Billboard charts during 1959. This great value 115-track 4-CD anthology includes, with the exception of certain records which are unavailable for inclusion due to copyright restrictions, just about every record which peaked in the Top 14 positions of Billboard's "Hot R&B Sides" chart during the year. The pop and R&B market was continuing to evolve as rock 'n' roll matured, and new strands arrived, with pop-flavoured R&B vocal groups making a significant impact, along with fine R&B vocalists who readily crossed into the pop charts, while the boundaries between pop and R&B continued to become less clear, as some pure pop records got traction on R&B radio stations.