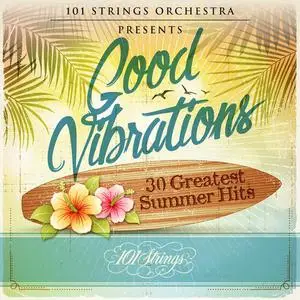 101 Strings Orchestra - Good Vibrations: 30 Greatest Summer Hits (2022)
FLAC (tracks), Lossless / MP3 320 kbps | 1:34:10 | 542 / 217 Mb
Genre: Instrumental, Easy Listening, Jazz / Label: Dockland Music
One of the most prolific and reliable names in instrumental easy listening music, the 101 Strings Orchestra has literally recorded hundreds of albums since its inception in 1957. Their trademark sound is built on a reverence for melody, pristine production, and a pleasant, relaxing ambience; while occasional albums have concentrated on brass, piano, guitars, and even mild rock & roll rhythms, the string section – true to the group's name – nearly always remains front and center, because of its lush, soothing sound qualities. Most of their albums were built around some unifying theme, whether the work of a well-known artist or songwriter, a specific topic (patriotism, holidays, et al.), TV/ movie themes, songs from a particular country, revampings of familiar tunes from other genres, and so on.