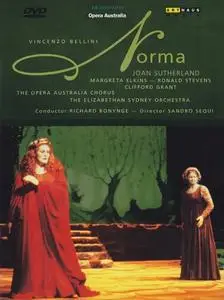 Richard Bonynge, Joan Sutherland, The Elizabethan Sydney Orchestra - Bellini: Norma (2001/1978)
PAL 4:3 (720x576) | Italiano (LinearPCM, 2 ch) | 7.73 Gb (DVD9) | 151 min
Classical | Arthaus Musik | Sub: English, Italiano, Deutsch, Francais, Espanol
Bellini's Norma contains one of the most impressive and also most difficult soprano roles in the whole repertoire of opera. Few sopranos can do justice to it. The first of those who have must surely be Maria Callas, considered the outstanding interpreter of the title part. The role, along with Bellini"s opera, was interpreted in a revolutionary fashion by Joan Sutherland (born in Sydney 1926). She is the protagonist in the present recording made at the Sydney Opera House in August 1978. "La Stupenda", as Joan Sutherland was known in musical circles, ended her international career in 1990. The celebrated production by Sandro Sequi, with Fiorella Mariani"s lavish décor and costumes, concentrates entirely on the human destiny of a woman on the edge of her existence. He intelligently brings forth the priestess' emotional world, hence showing the many facets of Norma"s character. The whole drama of events on the stage is reflected in the orchestra pit, and musical director Richard Bonynge demonstrates once again his competence for great musical theatre.
Cast:
Norma - Joan Sutherland
Adalgisa - Margreta Elkins
Pollione - Ronald Stevens
Oroveso - Clifford Grant
Clotilde - Etela Piha
Flavio - Trevor Brown
Opera Australia Chorus
The Elizabethan Sydney Orchestra
Conductor - Richard Bonynge