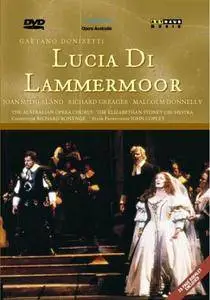 Richard Bonynge, The Elizabethan Sydney Orchestra, Joan Sutherland, Richard Greager - Donizetti: Lucia di Lammermoor (2004/1986)
PAL 4:3 (720x576) VBR | Italiano (LinearPCM, 2 ch) | 7.48 Gb (DVD9) | 143 min
Classical | Arthaus Musik | Sub: Italiano, English, Deutsch, Francais, Espanol
Lucia di Lammermoor catapulted Joan Sutherland to international fame in 1959. It is a role with which her name is now inextricably linked and one which provides a perfect showcase for her remarkable vocal agility and acting ability. Set in the misty moors of Scotland, Lucia di Lammermoor is based on the novel by Sir Walter Scott. It is a tragic tale of star-crossed lovers separated by a family feud. In Gaetano Donizetti's dark, romantic opera, the forces of hate tear the young couple apart, leading to madness and murder. Richard Greager, Malcolm Donnelly, Joan Sutherland. Directed by John Copley, conducted by Richard Bonynge.