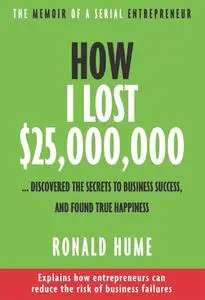 How I Lost $25,000,000 …: Discovered The Secrets to Business Success, and Found True Happiness by Ronald Hume
English | December 2nd, 2022 | ISBN: 1771616369 | 200 pages | True EPUB | 1.60 MB
The memoir of a radical mass-marketing entrepreneur, an autopsy of a super successful serial entrepreneur told with honesty and a wry sense of humour, revealing intimate details of his journey to massive wealth and the melt-down. This story spotlights essential life lessons for achieving happiness and fulfillment in business and in one's personal life. Ron Hume was genetically programmed to be an entrepreneur. He achieved success because he was able to identify unmet needs and his insights allowed him to build successful businesses.