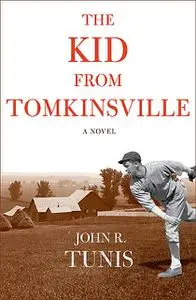 «The Kid from Tomkinsville» by John R. Tunis
English | EPUB | 0.4 MB
Rookie pitcher Roy Tucker is full of hope for his first season with the Brooklyn Dodgers—and hope might be what the team needs most Roy Tucker—a small-town kid from Tomkinsville, Connecticut—has quit his job at the drugstore and packed up for Dodgers training camp in Clearwater, Florida, hoping to make the team as a rookie pitcher. He expects the field to be competitive and realizes he might not pass muster, but after just one practice, he discovers just how difficult a goal he has set. But the Dodgers are an aging team, and owner Jack MacManus is getting tired of the smart remarks from sports reporters and the manager of the rival Giants, Bill Murphy. With a little coaching and encouragement from Dave Leonard, the oldest catcher in the big leagues, this kid from Tomkinsville might be just what the team needs.