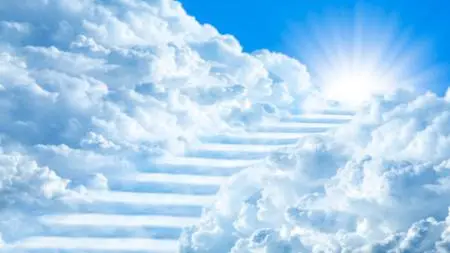 Stairway To Heaven
Published 11/2022
MP4 | Video: h264, 1280x720 | Audio: AAC, 44.1 KHz
Language: English | Size: 4.47 GB | Duration: 5h 41m
Unlocking the seven chakras to awaken your inner Buddha
What you'll learn
Familiarize the participants with the concept of chakras and healing with energy.
Be able to identify blockages in chakras through behaviors, emotions, thoughts, and illnesses.
Be able to unblock and heal our chakras through ancient and specific techniques.
Be able to envision your role in the universe as a light worker and be able to walk your path and achieve your mission and purpose.
Requirements
English language
Description
((As a result of the Stairway to heaven program, people who are struggling with some of the 12 realms of life like Health, Money, Career, Love, and relationship would be able to live a balanced life full of peace, joy, and abundance, I am searching for individuals or groups who are looking to improve their wellbeing in all 12 realms of their lives.Whom do you know who would like to thrive and live an abundant life and enjoy every moment?))Neuroscience tells us that our approach to life is the result of early on programming fed to us by our families and the communities we live in, we shape our personalities based on the feedback we set from the outside world and live in a state of robotic because we are not living our essence (Inner Buddha).Physics tells us that everything in the universe is made of energy. Since ancient times the concept that energy flowing in our bodies through centers called chakras, has been connected to longevity, health, wellness, inner peace, and oneness with all.The duration of this program is seven weeks. Every week we will have 2 sessions, each around one hour in length.Each session is divided into 2 segments - theoretical and practical. During the practical part, participants will be guided through guided meditation and active meditation techniques. In the theoretical segment, participants will learn about the fundamental of healing and the use of energy in modern life.
Overview
Section 1: Preparation
Lecture 1 Trailer
Lecture 2 Introduction: Welcome to Stairway to heaven
Section 2: Energy awareness and chakra connection
Lecture 3 Energy Awareness
Lecture 4 Chakra healing meditation
Section 3: Energy analyses and Earth Element
Lecture 5 Analyse your energy
Lecture 6 Heal your past regression
Section 4: Sacral chakra and Water Element
Lecture 7 Increase your creativity with water element
Lecture 8 Heal with the water element
Section 5: Air element
Lecture 9 Heart chakra and Air Element
Lecture 10 Heal you heart Chakra
Section 6: Fire Element & Solar plexus chakra
Lecture 11 Connect with Fire element
Lecture 12 Solar plexus healing meditation
Section 7: Space (Ether) Element
Lecture 13 Ether element and Throat chakra
Lecture 14 Throat chakra healing meditation
Section 8: Awakening your Inner Buddha
Lecture 15 The light element & 3ed eye chakra
Lecture 16 Connect with the universe and manifest from the 5th dimension.
Lecture 17 Celebrating your inner buddha
People who are struggling with some of the 12 realms of life like Health, Money, Career, Love, and relationship.