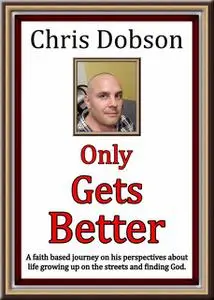 «Only Gets Better» by Chris Dobson
English | EPUB | 0.6 MB
Chris Dobson
 shares his story of life growing up on the streets of Sydney, interweaving perspectives on things he learned in his 44 years living life. From a boy taken away from 2 families and put into government care at age 14, then quickly growing up on the streets, he shares how God turned his life around.
This incredible story mixed in with people's daily struggles in life and his own travels, will help the reader on their journey with the goal of drawing closer to God and loving others.
From subjects ranging from temptation to loving people, 
Chris
 puts all his ideas and experiences down in the hope people will walk away feeling satisfied that things will get better for whatever they may face in their own lives.
Chris
 shows miraculously how to move forward in life against the odds.
He lives in Sydney Australia and hopes to write many more books after this that will engage the  worldwide community. He is a committed Christian who loves all regardless of their background or values.