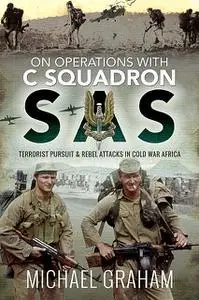 «On Operations with C Squadron SAS» by Michael Graham
English | EPUB | 4.4 MB
This is the third and final 'stand-alone' account of C Squadron SAS's thrilling operations against the relentless spread of communist backed terrorism in East Africa.Drawing on first-hand experiences the author describe operations against communist-backed terrorists in Angola and Mozambique, aiding the Portuguese and Renamo against the MPLA and Frelimo respectively.Back in Southern Rhodesia SAS General Peter Walls, realising the danger that Mugabe and ZANU represented, appealed directly to British Prime Minister Margaret Thatcher. This correspondence, published here for the first time, changed nothing and years of corruption and genocide followed.Although C Squadron was disbanded in 1980 many members joined the South African special forces. Operations undertaken included unsuccessful and costly destabilisation attempts against Mugabe and missions into Mozambique including the assassination of Samora Machel. By 1986 deteriorating relationships with the South African authorities resulted in the break-up of the SAS teams who dispersed worldwide.Had Mike Graham not written his three action-packed books, C Squadron SAS's superb fighting record might never have been revealed. For those who are fascinated by special forces soldiering his accounts are 'must reads'.