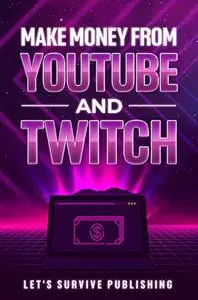 Make Money From YouTube and Twitch: A Step-By-Step Guide to Becoming a Content Creator and Making Money From Your Media by Let's Survive Publishing
English | 2022 | ISBN: N/A | ASIN: B0B49Q7MHN | 77 pages | MOBI | 0.21 Mb
Forget scrubbing through YouTube, piecing together bits and pieces from different sources. Instead, check out this book which will kickstart your content creation journey. This book will bring you through the process of setting up and running a successful YouTube or Twitch channel, the equipment you will need, the software and how to use it. Above all else it will teach you to understand these platforms and how to become the best content creator you can be.
Make money doing what you love today.
Feel Free to contact me for book requests, informations or feedbacks.
Without You And Your Support We Can't Continue
Thanks For Buying Premium From My Links For Support