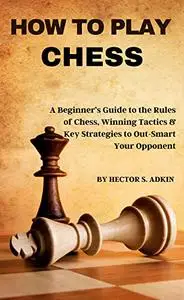 How to Play Chess: A Beginner's Guide to the Rules of Chess, Winning Tactics & Key Strategies to Out-Smart Your Opponent by HECTOR S. ADKINS
English | 2021 | ISBN: N/A | ASIN: B09NYJLG88 | 175 pages | EPUB | 11 Mb
Do you make random moves in Chess games? Are you tired of making long neck-wrenching calculations, which never really work? You must be looking for some tips to find the good moves quickly, right? If you answered yes to those questions, then this is the book for you. Make sure you read till the end because this will be very useful to you. And of course, there is a brilliant chess puzzle attached at the end of each chapter.
I am sure most of you think chess is a very complicated game because it involves so much of thinking. You are already trying to find too many answers during the game like "what is my opponent thinking? What is the best Move that I can play? Am I calculating correctly? Should I attack? Should I defend? Different strategies, tactics, and ideas to use." So many questions you may want to ask.
But Hold on, are these the right questions you're supposed to ask? Well, that's what we are going to focus on in this book.
In this chess master class, you will learn a simple 5 step thinking process and it is guaranteed that if you follow this systematic approach of thinking, then you can easily up your game.
Also in this book, you'll;
Get familiar with the game, its goal and rules, terminology and components.
Easily memorize all the pieces, their movement options (including special movements) and how they can work in conjunction to devastate your opponent.
Know what common tactics are and learn essential chess tactical motifs that will give you a competitive advantage over other beginners.
Discover the difference between tactics and strategy.
Learn the three stages of a chess game, discover key strategy principles, and know how to put them into action from the opening to the endgame.
Memorize the best chess opening for beginners and recognize elementary checkmating patterns.
And much MORE!