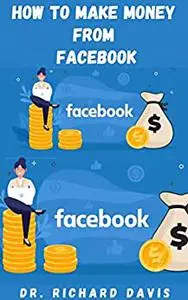 HOW TO MAKE MONEY FROM FACEBOOK: Complete Guide On How To Boost Your Income Includes Tips On How To Find The Right Products To Sell, Create The Right Ads, And Target The Right Audience
English | 2022 | ASIN: B0BD5S2KN2 | 60 pages | AZW3,EPUB | 366.74 kB
If you are one of those wondering how to earn money from Facebook without investment, then you are on the right track because this article is for you. You do not have to worry about traffic or population like running a website or e-commerce because of the many active users on Facebook. The foundation of any successful plan to make money with social media is good content, and lots of it. On Facebook, that means a stream of interesting links, images, and updates every day. Search for a niche and fill it with quality content. It doesn't have to be a niche nobody else is filling, but it should be specific enough that it's clear to the casual observer. For example, maybe you'll post content for cat lovers, mothers, or people with a certain political affiliation. If you plan to market a product with your account, be sure to link the product to your posts in some way. Let your account build up interest over time by continuing to provide fresh and relevant content every day.