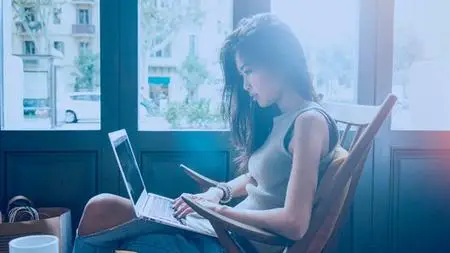 How To Hire Independent Contractors And Freelancers
Last updated 2/2016
MP4 | Video: h264, 1280x720 | Audio: AAC, 44.1 KHz
Language: English | Size: 82.83 MB | Duration: 0h 55m
Independent Contractor Agreement + Necessary Forms You Need to Hire Freelancers | AVOID IRS TROUBLE
What you'll learn
Hire an Independent Contractor, freelancer, or consultant
Using an Independent Contractor Agreement to hire your freelancers
Know the difference between independent contractors and employees
How to file the SS-8 form
How to file the W-9 form
How to file 1099-MISC form and DE 542 form
Avoid severe penalties of misclassifying workers as independent contractors
Requirements
Interested in hiring an Independent Contractor, Freelancer, or Consultant
Description
★ JOIN 1,250+ STUDENTS HIRING AND LEGALLY WORKING WITH INDEPENDENT CONTRACTORS TO SAVE MONEY & TIME ★
Do you work with independent contractors or freelancers? 
Do you want to avoid getting in trouble with the law and the IRS?
In an easy and actionable course, I'll show you the necessary steps you need to take to hire independent contractors.
I'm a business lawyer and I have years of experiencing guiding people on how to legally hire independent contractors while staying away from legal trouble.
If you find yourself on this page, that means you've already taken the first step in hiring independent contractors and freelancers to help your business. Entrepreneurs usually use independent contractors for specialized, short-term work and it's a great way to try out a worker before committing to a longer term.
In this course, I will clearly explain how to legally hire independent contractors and freelancers for your business and explain and even provide the contracts and forms you need in hiring freelancers.
WHY DO I NEED TO TAKE THIS COURSE?
You can save considerable amount of money by classifying a worker as an independent contractor rather than an employee. However, the Department of Labor and the IRS target businesses that use independent contractors.
There are some associated risks of working with independent contractors. Employer misclassification of employees as independent contractors, either inadvertently or to avoid taxation and regulation, is widespread but very risky.
In many states, you can face heavy violations for misclassifying employees as independent contractors.
By enrolling in this course, you can get all of your questions answered by a business lawyer.
Don't take the risk of hiring or maintaining independent contractors until you've taken this course.
★ Student review by Joe Mob, "Efficient and qualitative information - easy to grasp content and detailed analysis of application of concept to hire independent contractor… great teacher"
★ Student review by Riv Rah, "What a great course! Very clear and concise, straight to the point."
This course is easy and simple to understand and actionable that you can use to immediately hire independent contractors.
COURSE TOPICS
Who is an independent contractor, freelancer or consultant - what kind of workers are considered independent contractorsBenefits and risks of hiring independent contractorsHow to determine independent contractors vs. employees - tests for determining independent contractorsQuiz on determining independent contractors vs. employeesIndependent Contractor Agreement - what is an independent contractor agreement and who needs one. The course comes with a complete sample independent contractor agreement for immediate use.Forms you need to hire independent contractors, including W-9 form and Form 1099-MISC and Form DE 542Top 3 tips about hiring independent contractors you need to know before hiring freelancers
BONUS
Ready Sample Independent Contractor Agreement you can use immediately to hire independent contractorsForms W-9, 1099-MISC, and DE 542 which you need to legally hire independent contractorsGet All of Your Legal Questions Answered by a Business Attorney by enrolling this course
WHAT YOU GET
Over 17 video lectures clearly explain the steps necessary in hiring independent contractorsLifetime access, ask questions, and see the newest information available about legally hiring independent contractors!Ready Sample Independent Contractor Agreement you can use immediately to hire independent contractorsUnlimited Questions You Can Get Answered by a Business AttorneyCertificate of CompletionDiscounts on future courses30-Day Money Back Guarantee. If you are not completely satisfied with our course for any reason whatsoever, I will offer you a full refund. No questions asked.
Thank you for making this the best selling independent contractor course on Udemy! I show my gratitude by consistently making new lectures and answering your legal questions in the course discussion!
What are you waiting for?
Every day you wait is costing you money!
Don't forget that this course is covered by Udemy's 30-DAY MONEY BACK GUARANTEE - so you don't have anything to lose.
★ Enroll right now!
Overview
Section 1: Introduction to Course
Lecture 1 Introduction to Course
Lecture 2 How to Get the Most out of this Course
Lecture 3 Legal Disclaimer
Section 2: Introduction to Independent Contractors, Freelancers & Consultants
Lecture 4 Who is an Independent Contractor, Freelancer or Consultant?
Lecture 5 Benefits & Risks of Hiring Independent Contractors
Section 3: How to Determine Independent Contractor vs. Employee
Lecture 6 Test for Determining Independent Contractor
Lecture 7 Element #1: Behavioral Control
Lecture 8 Element #2: Financial Control
Lecture 9 Element #3: Type of Relationship
Lecture 10 Form SS-8
Section 4: Independent Contractor Agreement
Lecture 11 Independent Contractor Agreement
Section 5: Other Forms You Need to Hire an Independent Contractor
Lecture 12 W-9 Form
Lecture 13 Form 1099-MISC and Form DE 542
Section 6: Top 3 Tips You Need to Know about Hiring Independent Contractors!
Lecture 14 Top 3 Tips about Hiring Independent Contractors
Lecture 15 To Recap
Lecture 16 Top 3 Tips about Managing Independent Contractors
Section 7: Course Wrap-up
Lecture 17 Contact Me & Discounts on Future Courses
Lecture 18 Legal Notice
Lecture 19 How to Legally Hire Independent Contractors (PDF Version)
Lecture 20 How to Get More Help
Lecture 21 ★ Bonus Section: The Top Secret Bonus Items Are Here!
This course is meant to entrepreneurs, businesspersons, freelancers, contractors, and all-around go-getters who are confused and deterred from hiring independent contractors,Those who don't know how to classify their workers as independent contractors,Those who are looking to save time and money. Your time is valuable. That's why I don't fill up this course with useless jargon. You only get the necessary information you need.