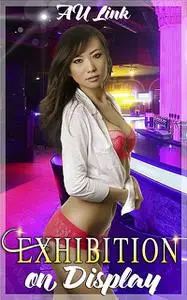 «Exhibition on Display» by AU Link
English | EPUB | 0.1 MB
A wild tale of exhibition, illicit activities, and a chance encounter. 
Excerpt:
The first Philippine woman to my left was easily as tall as I was without her 6″ heels and introduced herself immediately after 'ma' left.  With her heels she was well over six feet tall.  She also carried amazing tits as big as my head, but she had weird eyes that were far too wide and for some reason looked a little lopsided.  She also had a giant nose that looked out of place on her even with her size.  She framed all of that by one of those ear-length crop-haircuts.  I may have been drinking, but when it looks off when you are drinking, it is best to err on the side of caution.  I was polite and smiled.  I just do not like women with short hair, it is just a 'me' thing, and made that decision easy.
The second woman was a stunner with long straight black hair.  She was a slender classically Philippine woman with big flirty eyes, long hair, solid handful sized tits and a nice looking face.  That whole package was wrapped by a one-piece 'fuck-me' dress and propped up to my eye height in 6″ heels.  She talked with that attractively flirty little side-to-side motion some women have.
The third woman fell into my 'pay-no-mind' category very quickly.  I could not have picked her out of a lineup the next day, let alone years later now.  She was unfortunately unremarkable and a little disinterested.
The final woman was interesting but I kept looking at the stunner.
She was insistent though and forced me to notice her.
She carried a mane of black hair down to between her shoulders and the middle of her back.  She was also a little wider than your usual Philippine woman was.  She carried beautiful hips and a top-heavy chest on curvy muscular legs that plunged into low 3″-4" heels.  She wrapped herself in a softly pattered red, pink and black spandex one-piece mini skirt.  She stood a beautiful 5'4" in her heels, which made her a lovely five-foot tall even, and left her standing only as tall as my chin.
I immediately felt myself smiling and thinking about how cute she was.  She was a not a classic, anorexic model gorgeous woman type of woman, but she was really cute.
It took the little minx only a few moments to cut her way into the center of her clustered friends and under my nose.
Her large beautiful bedroom brown eyes did not leave mine as she flirted gently about us dancing and she took my right hand, rocking me back and forth with her swaying movement to the music.
I finished my cheep Korean version Budweiser, and put it on the bar forcing the tall gal with the giant chest to move out of my way.  My now free hand fell to my dance partner's hip as she swayed closer and closer.
Before I knew it, her legs opened and straddled my right leg as she pressed closer and closer.
I stared down at her, my eyes flicking between her large lush breasts and her bedroom browns.
I could feel her hot crotch on my bare leg as my shorts rode higher and higher, from her grinding.  Her panties were damp from her excitement.
I started to lose my mind a little.