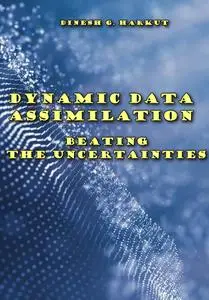 "Dynamic Data Assimilation: Beating the Uncertainties" ed. by Dinesh G. Harkut
ITExLi | 2020 | ISBN: 1839680849 9781839680847 1839680830 9781839680830 1839680857 9781839680854 | 105 pages | PDF | 5 MB
This book examines data assimilation methods including Kalman filtering, artificial intelligence, neural networks, machine learning, and cognitive computing.
Data assimilation is a process of fusing data with a model for the singular purpose of estimating unknown variables. It can be used, for example, to predict the evolution of the atmosphere at a given point and time.
Contents
1. Introductory Chapter: Data Assimilation
2. Adaptive Filter as Efficient Tool for Data Assimilation under Uncertainties
3. Convolutional Neural Network Demystified for a Comprehensive Learning with Industrial Application
4. Estimation for Motion in Tracking and Detection Objects with Kalman Filter
5. Kalman Filtering Applied to Induction Motor State Estimation
6. Data Processing Using Artificial Neural Networks
1st true PDF with TOC BookMarkLinks