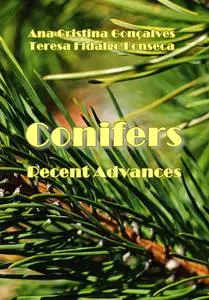 "Conifers: Recent Advances" ed. by Ana Cristina Gonçalves, Teresa Fidalgo Fonseca
ITexLi | 2022 | ISBN: 1839697776 9781839697777 1839697768 9781839697760 1839697784 9781839697784 | 226 pages | PDF | 21 MB
This book is a collection of contributions, both reviews and research studies, from different fields and perspectives on the management, regeneration, growth, diversity, and production of conifer stands. The book addresses the effect of wildfires on conifer ecosystems and respiratory allergies to conifers.
Conifers include a wide range of species that are spread all over the world. These species have wide diversity, variable stand structures ranging from monospecific monocohort to multispecific multicohort, and produce an assortment of products and services, the most frequent of which is timber.
Contents
1. Maritime Pine, Its Biological and Silvicultural Traits for the Basis of Natural Resources: An Overview
2. Complexity of Regeneration Dynamic at the Ecocline between Mixedwood and Coniferous Domains of the Southernmost Boreal Zone in Eastern North America
3. Research Progress on Iron-Heart Cunninghamia lanceolate
4. Conifers: Species Diversity and Improvement Status in Kenya
5. Larch: A Promising Deciduous Conifer as an Eco-Environmental Resource
6. Pinus patula Plantations in Africa: An Overview of Its Silvicultural Traits and Use under SDG
7. Management of Pinus pinaster Aiton for Wood and Resin Production: A Technical-Financial Feasibility Analysis
8. Recent Megafires Provide a Tipping Point for Desertification of Conifer Ecosystems
9. Respiratory Allergy to Conifers
1st true PDF with TOC BookMarkLinks
More :
You find here