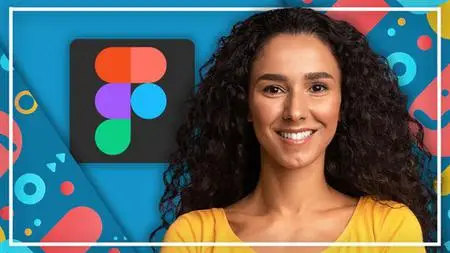 Complete Figma Megacourse: Ui/Ux Design Beginner To Expert
Last updated 9/2022
MP4 | Video: h264, 1280x720 | Audio: AAC, 44.1 KHz
Language: English | Size: 22.89 GB | Duration: 44h 4m
This course will be your personal guide for interface design using Figma! Go from the basics to working professionally!
What you'll learn
The principles of User Interface Design and Prototyping
The basics of Human-Computer Interaction
How to read a User Flow Diagram
How to use Figma and its given tools
How to design within Figma
Wireframing in order to produce a functional prototype
How to use the collaborative feature
How to give and receive feedback on prototypes
The principles of UX design
The importance of color theory
What are the most common beginner mistakes and how to avoid them
The principles of forms, buttons, and plugins
How to create an app
How to make a website
All about content creation
How to animate in Figma
How to create interactive calendars
To make a Netflix prototype
Requirements
No previous knowledge in Figma required!
Desire and passion to learn about interface design and layouts
Flexibility with design according to target audience's design elements
Good internet connection
Patience and a positive mindset!
Description
This course is constantly being revised and updated with new lessons.Have you ever wanted to design your own app, website or blog? These days, we use them without a second thought. They have become an integral part of both the human experience and the financial market. It's easy to come up with a new idea for a viral new app, but not as easy to make that app a reality - or so you might think. That's where Figma comes in. Figma is a free, collaborative UI/ UX design tool that can help you design a wide range of interfaces in great detail - and we're here to teach you how.In this course, you're going to learn everything about user interface design with Figma. Step-by-step, we'll cover everything you need to know from opening the program for the very first time to finalising your finished design. You'll learn all of the tools, as well as how and when to use them. We'll also cover everything you'll need to be able to collaborate with other web developers easily through its collaborative feature. During the course, you will learn about the principles of User Interface Design in order to design with purpose, as well as the principles of Human-Computer Interaction. Finally, we'll teach you how to adapt to specific project requirements, as well as how to wireframe in order to turn your design into a functional prototype.Start your UI/UX development journey with us!After taking this course, you will be able to:Create prototypes and collaborate with web developers easilyAchieve an understanding of the process, purpose, and tools of prototype designUnderstand the principles of User Interface Design in order to design with purposeLearn the basics of Human-Computer InteractionDiscover the standard tools in User InterfaceAdapt to specific project deliverables in User InterfaceUnderstand the principles of User Experience
Overview
Section 1: Introduction
Lecture 1 Welcome to the Course + User Interface Overview
Lecture 2 User Research and User Needs
Lecture 3 User Interface Principles
Section 2: Drafting
Lecture 4 Creating a Figma Account
Lecture 5 Creating a New Design File
Lecture 6 Mapping the User Journey pt 1
Lecture 7 Mapping the User Journey pt 2
Lecture 8 Creation of Wireframes
Section 3: Prototyping
Lecture 9 Creating frames
Lecture 10 Function of tools
Lecture 11 Font usage
Lecture 12 Layout planning
Lecture 13 Framing, layering, and grouping
Lecture 14 Creating and editing shapes
Lecture 15 Images and Masking
Lecture 16 Components
Lecture 17 Constraints and Versioning
Lecture 18 Prototyping
Lecture 19 Team libraries and setups
Lecture 20 Previewing and Commenting
Lecture 21 Exporting assets
Section 4: Demonstrations
Lecture 22 App Scenario 1
Lecture 23 App Scenario 2
Lecture 24 App Scenario 3
Lecture 25 Website Scenario 1
Lecture 26 Website Scenario 2
Section 5: Keep Learning
Lecture 27 Color Theory
Lecture 28 UI Comparisons
Lecture 29 3D Button and Gradient Graph Tricks
Lecture 30 Content Creation
Lecture 31 Professional UI Discussion
Lecture 32 Professional UI Discussion Pt 2
Lecture 33 Forms
Lecture 34 Buttons
Lecture 35 Plugins
Lecture 36 Animating "Like" Buttons
Lecture 37 Animating a Burger Menu
Lecture 38 Interactive Calendar
Lecture 39 Netflix Prototype
Lecture 40 Beginner Mistakes
Lecture 41 Figma Interface Preview
Section 6: Bonus: Learn about UX
Lecture 42 Introduction to the Content
Lecture 43 What is UX and UX Design?
Lecture 44 Importance of UX Design
Lecture 45 7 Key Factors of User Experience
Lecture 46 Mind the Empathy Gap
Section 7: Advanced Figma Course - Introduction
Lecture 47 Introduction
Lecture 48 Welcome
Lecture 49 Course Roadmap
Lecture 50 Course 1 Overview and Recap
Section 8: The Approach
Lecture 51 Think - Setup - Design - Iterate
Lecture 52 Best Practices in Figma
Section 9: Mastering Auto Layout
Lecture 53 Basics
Lecture 54 Properties: Functionality Examples Pt. 1
Lecture 55 Properties: Functionality Examples Pt. 2
Lecture 56 Properties: Functionality Examples Pt. 3
Lecture 57 Properties: Functionality Examples Pt. 4
Lecture 58 Wrap up Pt. 1
Lecture 59 Wrap up Pt. 2
Section 10: Design Systems
Lecture 60 Styles: Intelligent Work Pt. 1
Lecture 61 Styles: Intelligent Work Pt. 2
Lecture 62 Everything as a Component: Making Designs Efficient and Scalable Pt. 1
Lecture 63 Everything as a Component: Making Designs Efficient and Scalable Pt. 2
Lecture 64 Everything as a Component: Making Designs Efficient and Scalable Pt. 3
Lecture 65 Everything as a Component: Making Designs Efficient and Scalable Pt. 4
Lecture 66 Advanced Prototyping Pt. 1
Lecture 67 Advanced Prototyping Pt. 2
Lecture 68 External Libraries
Lecture 69 Documentation
Lecture 70 Wrap Up: Design Systems Master
Section 11: Wrap Up
Lecture 71 Recommended Resources and Summary of Concepts
Section 12: Use Cases: Applying Concepts
Lecture 72 Responsive Web (Landing page) Pt. 1
Lecture 73 Responsive Web (Landing page) Pt. 2
Lecture 74 Responsive Web (Landing page) Pt. 3
Lecture 75 Responsive Web (Landing page) Pt. 4
Lecture 76 Responsive Web (Landing page) Pt. 5
Lecture 77 Responsive E-commerce Site (Registration Flow) Pt. 1
Lecture 78 Responsive E-commerce Site (Registration Flow) Pt. 2
Lecture 79 Responsive E-commerce Site (Registration Flow) Pt. 3
Lecture 80 Responsive E-commerce Site (Registration Flow) Pt. 4
Lecture 81 Responsive E-commerce Site (Registration Flow) Pt. 5
Lecture 82 Crypto Exchange Dashboard (Converting Crypto Assets Flow) Pt. 1
Lecture 83 Crypto Exchange Dashboard (Converting Crypto Assets Flow) Pt. 2
Lecture 84 Crypto Exchange Dashboard (Converting Crypto Assets Flow) Pt. 3
Lecture 85 Crypto Exchange Dashboard (Converting Crypto Assets Flow) Pt. 4
Lecture 86 Crypto Exchange Dashboard (Converting Crypto Assets Flow) Pt. 5
Lecture 87 Android App - Smart Translate (Translation Flow) Pt. 1
Lecture 88 Android App - Smart Translate (Translation Flow) Pt. 2
Lecture 89 Android App - Smart Translate (Translation Flow) Pt. 3
Lecture 90 Android App - Smart Translate (Translation Flow) Pt. 4
Lecture 91 Android App - Smart Translate (Translation Flow) Pt. 5
Lecture 92 IOS App - Banking App (Sending Money Flow) Pt. 1
Lecture 93 IOS App - Banking App (Sending Money Flow) Pt. 2
Lecture 94 IOS App - Banking App (Sending Money Flow) Pt. 3
Lecture 95 IOS App - Banking App (Sending Money Flow) Pt. 4
Lecture 96 IOS App - Banking App (Sending Money Flow) Pt. 5
Lecture 97 IOS App - Car Rental App (Renting a Car Flow) Pt. 1
Lecture 98 IOS App - Car Rental App (Renting a Car Flow) Pt. 2
Lecture 99 IOS App - Car Rental App (Renting a Car Flow) Pt. 3
Lecture 100 IOS App - Car Rental App (Renting a Car Flow) Pt. 4
Lecture 101 IOS App - Car Rental App (Renting a Car Flow) Pt. 5
Section 13: Next Steps
Lecture 102 Next Steps
Lecture 103 Last Words
Anyone who wants to learn to design user interfaces - no experience needed!,Anyone looking to design their own application, website or blog,UI/UX designers who want to expand their portfolio