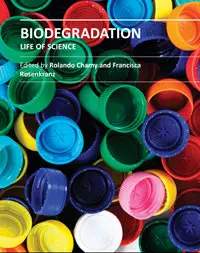 "Biodegradation: Life of Science" ed. by Rolando Chamy and Francisca Rosenkranz
InTeOAe | 2013 | ISBN: 953511154X | 377 pages | PDF | 12 MB
This book contains a collection of different biodegradation research activities where biological processes take place.
The book has two main sections:
A) Polymers and Surfactants Biodegradation
B) Biodegradation: Microbial Behaviour.
Contents
Preface
Section 1 Biodegradation of Polymers and Surfactants
1 Biodegradation of Medical Purpose Polymeric Materials and Their Impact on Biocompatibility
2 Biosurfactants: Production and Applications
3 Aerobic Biodegradation of Surfactants
4 Ecotoxicological Behavior of some Cationic and Amphoteric Surfactants (Biodegradation, Toxicity and Risk Assessment)
5 Creation of Novel Green Surfactants Containing Carbonate Linkages
6 Biodegradable Polymers
7 Antimicrobial Modifications of Polymers
Section 2 Biodegradation: Microbial Behavior
8 Insecticide Resistence of Bumblebee Species
9 Biodegradation of Synthetic Detergents
10 Pesticide Biodegradation: Mechanisms, Genetics and Strategies to Enhance the Process
11 Biodegradation: Involved Microorganisms and Genetically Engineered Microorganisms
12 Microbial Reduction of Hexavalent Chromium as a Mechanism of Detoxification and Possible Bioremediation Applications
13 Phenolic Extractives and Natural Resistance of Wood
with TOC BookMarkLinks