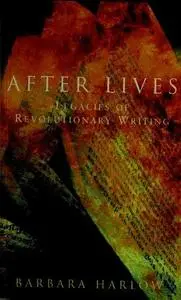 After Lives: Legacies of Revolutionary Writing By Barbara Harlow
1996 | 198 Pages | ISBN: 1859841805 | PDF | 28 MB
In recent years, three of the main sites of liberation struggle in the world—Palestine, El Salvador, and South Africa—appear to have been transformed into arenas of negotiation and peace processes. Talk of revolution, violence, and state repression has been replaced by the promise—or its lack—of truth commissions, reconciliation, amnesties. Barbara Harlow, in this powerful and passionate study, examines this change through the prism of political assassination. Ghassan Kanafani, Roque Dalton, and Ruth First, all of whom laboured on behalf of social revolutions they did not see, are case studies in her exploration of the intricate relations between politically engaged imaginative writing and participation in revolutionary struggle. The stories of their lives and deaths illustrate the causes and circumstances of political assassination and provoke reflection on the wave of self-questioning currently engaging the PLO, the FMLN, and the ANC.In a moving consideration of the complex tensions that motivate and condition political writing, After Lives explores the costs and gains that accrue to writers who put their works and their lives on the line.