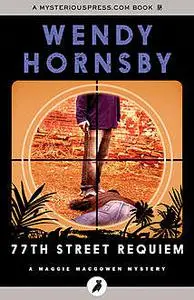 «77th Street Requiem» by Wendy Hornsby
English | EPUB | 0.7 MB
Maggie looks into the decades-old murder of a controversial cop. A long time ago, Roy Frady was a perfect cop. Now he's perfect fodder for one of Maggie MacGowen's documentaries. Frady worked narcotics in the Seventy-seventh Street Division as part of a unit nicknamed the Four Horsemen. A merry band of iron-fisted brothers, they kept their district clean of drugs until a litany of brutality charges caused their downfall. Not long after, Roy Frady was found with a 9-mm slug in his skull. The case remained unsolved for two decades.
One of the Four Horsemen was Mike Trent, who went on to become a homicide detective and the love of Maggie's life. Through the years, Frady's file never left his desk, and as he approaches retirement he vows to close the case. Maggie plans a documentary about Mike's investigation, unaware that she and her camera will find things in his past that are too ugly to be known.