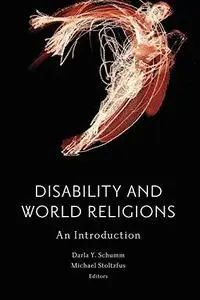 Disability and World Religions: An Introduction By Darla Yvonne Schumm; Michael Stoltzfus
2016 | 258 Pages | ISBN: 1481305212 | EPUB | 1 MB
Religion plays a critical role in determining how disability is understood and how persons with disabilities are treated. Examining the world's religions through the lens of disability studies not only peers deeply into the character of a particular religion, but also teaches something brand new about what it means to respond to people living with physical and mental differences. Disability and World Religions introduces readers to the rich diversity of the world's religions--Buddhism, Judaism, Islam, Christianity, Hinduism, Confucianism, Daoism, and Native American traditions. Each chapter introduces a specific religious tradition in a manner that offers innovative approaches to familiar themes in contemporary debates about religion and disability, including personhood, autonomy, community, ability, transcendence, morality, practice, the interpretation of texts, and conditioned claims regarding the normal human body or mind. By portraying varied and complex perspectives on the intersection of religion and disability, this volume demonstrates that religious teachings and practices across the globe help establish cultural constructions of normalcy. The volume also interrogates the constructive role religion plays in determining expectations for human physical and mental behavior and in establishing standards for measuring conventional health and well-being. Disability and World Religions thus offers a respectful exploration of global faith traditions and cultivates creative ways to respond to the fields of both religious and disability studies.