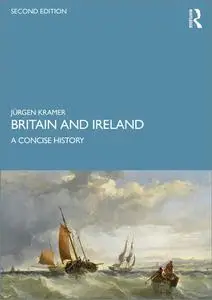 Britain and Ireland: A Concise History, 2nd Edition by Jürgen Kramer
English | November 1, 2022 | ISBN: 0367650339, 0367650320 | True PDF | 296 pages | 35 MB
Britain and Ireland recounts the history of the two states – the United Kingdom of Great Britain and Northern Ireland and the Republic of Ireland (Éire) – and four nations – the Irish, the Welsh, the Scottish and the English – from prehistory to the present.
Chapters are organised chronologically starting in 4000 BCE, coming through the Roman occupation, the Reformation, the Industrial Revolution and the formation of the British Empire. Coming up to the present day, this new edition has expanded material on post-1800 Irish history, with particular emphasis on the Famine, Home Rule, the Irish Civil War, partition, the Troubles, the Good Friday Agreement and the Brexit fallout. Later chapters also have increased emphasis on national developments including Thatcherism, Blairism, monarchy, austerity, devolution, the Scottish referendum and international relations with the US, Europe and the Commonwealth, ending with the ongoing impact of COVID-19 and climate change.
Accompanied by illustrations and information boxes, and with an increased selection of documents with questions to challenge students of British and Irish studies, the book presents not only the story of what happened in the British Isles, but its interdependence with Europe and the rest of the world.