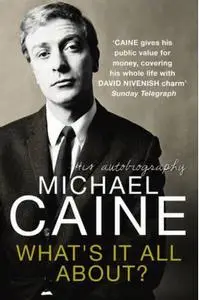 Michael Caine, "What's It All About?"
English | 2010 | ISBN: 0345386809, 039458421X | 592 pages | EPUB | 1.6 MB
From Alfred to Zulu, Michael Caine has been Britain's best-loved actor for half a century. Now, for the first time, he reveals the truth behind his remarkable life. From his time as an evacuee during the Blitz to his front-line military service in the Korean War, from his early days as an assistant stagehand to becoming Peter O'Toole's understudy, from walk-on parts in local theatres to blowing the bloody doors off with his legendary roles in Zulu and The Italian Job, Caine's life was never simple or easy. Discussing his little-known childhood and family alongside his hard-fought journey from London to Hollywood, Caine writes with astonishing candour about the good years and the lean years, bringing his unique charm and humour to his anecdotes and memories of a sprawling movie-making career. If you worked in Hollywood in the last few decades, you've probably worked with Michael Caine - and his accounts of his relationships with other superstars, both on and offscreen, make this autobiography essential reading for any fan not just of Michael Caine, but of film in general.