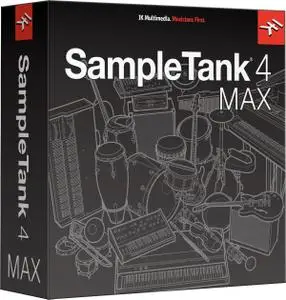 IK Multimedia SampleTank 4 MAX Sound Content v1.5.0 HYBRiD | 94.8 Gb
The new SampleTank 4 has been re-designed from the ground up to be every musician's "go to" workstation for music creation, with a completely new rescalable interface, a massively expanded sample library and a new cutting-edge sound engine with efficient disk streaming, to deliver more powerful music creation tools than you ever imagined. What might usually take dozens of plug-ins can be accomplished right inside SampleTank 4, for lightning-fast workflow that keeps your inspiration going.
Find any type of sound fast and tailor them to your needs with the new deep, powerful editing options and a new modulation matrix. New dynamic "groove players" – an arpeggiator, strummer, and pattern and loop players – turn your sounds into songs faster than ever. Plus a new live mode makes SampleTank 4 the perfect performance partner, with the ability to create entire set lists and easily map every parameter just how you need it. Inspiring new sounds, powerful sound design features, advanced groove creation and tour-ready stage optimization. SampleTank 4 will take you wherever you want to go.
It all starts with sound
Your "go to" virtual instrument is the one you open first; the one you trust to give you the sounds you need to get started or get the job done. SampleTank 4 now offers a massive sound library, with over 260 GB and 8,000 instrument presets carefully balanced across the widest range of styles, genres and sounds. SampleTank 4's new library is the product of dozens of carefully conducted recording sessions in multiple cities across Europe and the United States as well as in our new, custom-built recording facility in Modena, Italy.
Updates are already integrated.
* Instruments v1.1
* Sound Library v1.5
IK Multimedia SampleTank 4 v4.0.8 here