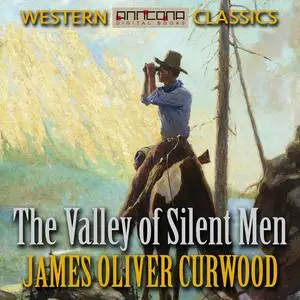 «The Valley of Silent Men» by James Oliver Curwood
English | MP3@192 kbps | 8h 29m | 700.2 MB
The Valley of Silent Men: A Story of the Three River Country is an adventure novel by American writer James Oliver Curwood.James Kent has learned that he is terminally ill with perhaps only days to live, and so decides to confess to a murder and thus save an innocent man. Nobody believes his confession, particularly Marette, a mysterious girl who had shown up at Athabasca Landing only weeks before. Kent's illness takes a turn and his death is postponed, and he sets about to find out more about the girl, who he ends up falling in love with, although she'll not reveal her past to him, nor what she knows about the murder. A story of intrigue, suspense, action, and above all, a story of love in the furthest outreaches of the Great White North where three great rivers flow; the Athabasca, the Slave, and the McKenzie, and where somewhere is hidden The Valley of Silent Men.The Valley of Silent Men was first published in 1920. AUDIO: Reading by Roger Melin, running time: 8 hours, 30 min. Unabridged, full version. E-Book: ePUB, 74 300 words, average reading time 6 hours, 10 min. James Oliver Curwood (1878-1927) was an American action-adventure writer. His books ranked among Publishers Weekly top-ten best sellers in the United States in the early 1920s. At least eighteen motion pictures have been based on or directly inspired by his novels and short stories. At the time of his death, he was the highest paid (per word) author in the world.