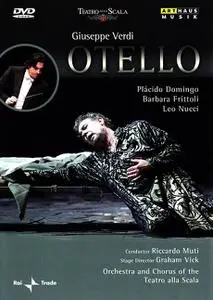 Riccardo Muti, Orchestra of the Teatro alla Scala - Verdi: Otello (2009/2001)
NTSC 16:9 (720x480) | Italiano | LinearPCM, 2 ch | Dolby AC3, 6 ch | 7.15 Gb (DVD9) | 140 min
Classical | Arthaus Musik | Sub: English, Deutsch, Francais, Espanol, Italiano, Chinese
The Milan "Otello" traditionally opens the Scala season and did so in 2001 on 7 December, but at the same time it was the farewell production before the start of the three-year renovation of the house and not least a brilliant end to the Verdi Year. The audience as well as the press cheered Barbara Frittoli as a youthfully charming Desdemona, Leo Nucci as cleverly self-controlled Iago and Plácido Domingo as a thrilling Otello, both from the dramatic and the singing point of view. Domingo had been the leading Moro di Venezi for a quarter of a century, and in Milan he said farewell to this role – "in triumph", according to 'The Herald Tribune'.