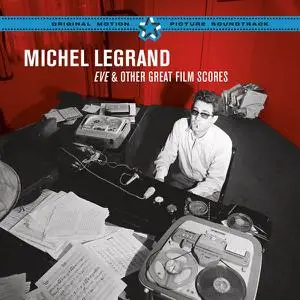 Michel Legrand - Eve & Other Great Film Scores (2022)
MP3 CBR 320 kbps - 288 MB
1:58:45 | Jazz, Soundtrack, Easy Listening | Label: The Sound of the Screen
This CD contains a fascinating collection of soundtracks by the great composer, arranger, conductor, and pianist Michel Legrand from the early stages of his long career. At the age of 84 at this writing, Legrand has written over 200 film and television scores in addition to many memorable songs. He is best known for his often haunting film music and scores, such as those from the nine movies contained here, which present a good sample of his work. Among the many highlights here is Legrand's first version of the classic song "Watch What Happens", which he composed as "Roland Rêve" for the 1960 film Lola.