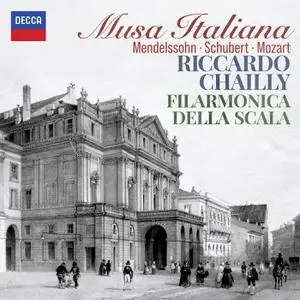 Filarmonica della Scala, Riccardo Chailly - Musa Italiana (2022)
FLAC (tracks), Lossless | 64:07 | 255 Mb
Genre: Classical / Label: Decca Music Group Ltd.
Decca Classics is proud to present the new album from Riccardo Chailly and the Filarmonica Della Scala. Released on 20th May 2022, Musa Italiana celebrates the influence of the "Italian style" on three Austro-German composers: Wolfgang Amadeus Mozart, Franz Schubert and Felix Mendelssohn.
Recorded in Dolby Atmos in the auditorium of La Scala during the pandemic, this album utilizes the famous La Scala acoustic in a unique way. As Chailly explains,
"Because of the pandemic and the need for more space between the players, a new floor was created over the seats of the parquette [stalls]… And it says much for the genius of Giuseppe Piermarini, the architect of La Scala, because right at the centre of the theatre, the acoustic is spectacular. La Scala's acoustic tends towards the dry in order to assist the voices, but out of the pit the sound is wonderful".
Felix Mendelssohn's "Italian Symphony" (No. 4 in A major) was composed during a 10-month Grand Tour of Italy between 1829 & 1831 while in his early twenties. It draws inspiration from the county's natural beauty, culture and music, most notably in the saltarello rhythms employed to great effect in the work's tarantella finale. Chailly has recorded Mendelssohn's 1834 revision of the work, which he believes heightens the work's drama.
"The finale – which is a tarantella where, when you are bitten by a tarantula, you have to dance or die… These are moments of high drama in a work that is celebrated for its joy and beauty." – Riccardo Chailly
Track List:
01. Filarmonica della Scala - Symphony No. 4 in A Major, Op. 90, MWV N 16, "Italian": I. Allegro vivace (Ed. John Michael Cooper)
02. Filarmonica della Scala - Symphony No. 4 in A Major, Op. 90, MWV N 16, "Italian": II. Andante con moto (Ed. John Michael Cooper)
03. Filarmonica della Scala - Symphony No. 4 in A Major, Op. 90, MWV N 16, "Italian": III. Menuetto. Con moto moderato (Ed. John Michael Cooper)
04. Filarmonica della Scala - Symphony No. 4 in A Major, Op. 90, MWV N 16, "Italian": IV. Saltarello. Presto (Ed. John Michael Cooper)
05. Filarmonica della Scala - Schubert: Overture in the Italian Style in D Major, D. 590
06. Filarmonica della Scala - Schubert: Overture in the Italian Style in C Major, D. 591
07. Filarmonica della Scala - Mitridate, rè di Ponto, K. 87/74a: Overture
08. Filarmonica della Scala - Ascanio in Alba, K. 111: Overture
09. Filarmonica della Scala - Lucio Silla, K. 135: Overture
ANALYZER: auCDtect: CD records authenticity detector, version 0.8.2
Copyright © 2004 Oleg Berngardt. All rights reserved.
Copyright © 2004 Alexander Djourik. All rights reserved.


FILE: 01. Filarmonica della Scala - Symphony No. 4 in A Major, Op. 90, MWV N 16, Italian I. Allegro vivace (Ed. John Michael Cooper).flac
Size: 46739614 Hash: 66A08B207100BFA597E1FD75C30CEF66 Accuracy: -m40
Conclusion: CDDA 100%
Signature: 9506AB5056C7DACF783A29F752FCD84CF25162BF
FILE: 02. Filarmonica della Scala - Symphony No. 4 in A Major, Op. 90, MWV N 16, Italian II. Andante con moto (Ed. John Michael Cooper).flac
Size: 22999741 Hash: DED6284F96F703177D4F8D82A638B9A2 Accuracy: -m40
Conclusion: CDDA 92%
Signature: 288E2F61FBF7A2B54FB33A6C3449438D49847563
FILE: 03. Filarmonica della Scala - Symphony No. 4 in A Major, Op. 90, MWV N 16, Italian III. Menuetto. Con moto moderato (Ed. John Michael Cooper).flac
Size: 29200105 Hash: 335264663E363E3E94A655EC63A3FA22 Accuracy: -m40
Conclusion: ???
Signature: 845AE727AA4E41321152C2478EF57D4B20A42F7F
FILE: 04. Filarmonica della Scala - Symphony No. 4 in A Major, Op. 90, MWV N 16, Italian IV. Saltarello. Presto (Ed. John Michael Cooper).flac
Size: 29873584 Hash: 38B4A4F1E9B5B8BFC29CF6A46F05EAB1 Accuracy: -m40
Conclusion: CDDA 42%
Signature: 55CB9D3E4D220151FF21573E6965C292779C9E5E
FILE: 05. Filarmonica della Scala - Schubert Overture in the Italian Style in D Major, D. 590.flac
Size: 31705859 Hash: 5EC25032F4E990603CFAE05918863EAB Accuracy: -m40
Conclusion: CDDA 100%
Signature: C3CC18ACD5AA850FC0452BF31A1E8A0A13A5F7AE
FILE: 06. Filarmonica della Scala - Schubert Overture in the Italian Style in C Major, D. 591.flac
Size: 33128750 Hash: 840732481677995CE5D054CBE9B8E202 Accuracy: -m40
Conclusion: CDDA 76%
Signature: 1A2AEE768B1615806D82EDB5D4E6317B67B79C4A
FILE: 07. Filarmonica della Scala - Mitridate, rè di Ponto, K. 8774a Overture.flac
Size: 25509406 Hash: 5E7C78029AC520B20708703A4330DD8C Accuracy: -m40
Conclusion: CDDA 54%
Signature: 396F11435C2FEE8A57BA1D8227A6BE2519B28F52
FILE: 08. Filarmonica della Scala - Ascanio in Alba, K. 111 Overture.flac
Size: 15879175 Hash: 22977191E03CE71102156F7CFAEDFF23 Accuracy: -m40
Conclusion: CDDA 62%
Signature: AEBA86A77D3F145EB5BE606DC5CF6A04CD293D4A
FILE: 09. Filarmonica della Scala - Lucio Silla, K. 135 Overture.flac
Size: 32827317 Hash: CEB00946A1345AC444BE02D3FF7F4C70 Accuracy: -m40
Conclusion: CDDA 100%
Signature: B3DBE5B2531D5BDE8261FE3416D62BDE0B2CE7F4