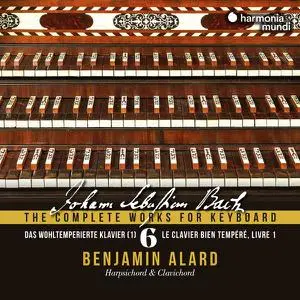 Benjamin Alard - Johann Sebastian Bach: The Complete Works for Keyboard, Vol. 6 ''Das Wohltemperierte Klavier'' (2022)
FLAC (tracks), Lossless | 2:41:33 | 982 Mb
Genre: Classical / Label: deutsche harmonia mundi
After five volumes devoted to the early years of J. S. Bach, up to the Weimar period, Benjamin Alard takes an utterly fascinating approach to the first book of The Well-Tempered Clavier. First he offers the listener an astonishing mental preparation on the clavichord, derived mainly from the Clavier-Büchlein for Wilhelm Friedemann. Then he arranges the preludes and fugues in a new order, and to play his programme he has chosen two instruments for which the word 'extraordinary' is not too strong: here is the moment when the glorious Hass family of instrument builders comes on the scene, in a festival of colours and registrations each more breathtaking than the last.
Track List:
01. Benjamin Alard - Præludium 1 in C Major, BWV 846a
02. Benjamin Alard - Fugue in C Major, BWV 953
03. Benjamin Alard - Applicatio in C Major, BWV 994
04. Benjamin Alard - Præambulum 1 in C Major, BWV 924
05. Benjamin Alard - Præludium in C Major, BWV 924a
06. Benjamin Alard - Præludium in C Major, BWV 933
07. Benjamin Alard - Præludium 12 in F Minor, BWV 857
08. Benjamin Alard - Præludium 11 in F Major, BWV 856
09. Benjamin Alard - Præambulum in F Major, BWV 927
10. Benjamin Alard - Præludium in F Major, BWV 928
11. Benjamin Alard - Præludium 6 in D Minor, BWV 851
12. Benjamin Alard - Præludium in D Minor, BWV 935
13. Benjamin Alard - "Jesu meine Freude" in D Minor, BWV 753 (Chorale prelude)
14. Benjamin Alard - Præludium 2 in D Minor, BWV 926
15. Benjamin Alard - Præludium & Fughetta in D Minor, BWV 899
16. Benjamin Alard - Præludium & Fughetta in G Major, BWV 902a & BWV 902a/2
17. Benjamin Alard - Præambulum in G Minor, BWV 930
18. Benjamin Alard - Præludium 10 in E Minor, BWV 855a
19. Benjamin Alard - Fuga in E Minor, BWV 855a/2
20. Benjamin Alard - Præludium in E Minor, BWV 938
21. Benjamin Alard - Præludium in E Minor, BWV 932: I. Allegro
22. Benjamin Alard - Præludium in E Major, BWV 937: II. Adagio
23. Benjamin Alard - Præludium 9 in E Major, BWV 854: III. Allegro
24. Benjamin Alard - Præludium 4 in C sharp Minor, BWV 849
25. Benjamin Alard - Præludium 3 in C sharp Major, BWV 848
26. Benjamin Alard - "Wer nur den lieben Gott läßt walten" in A Minor, BWV 691 (Chorale prelude)
27. Benjamin Alard - Præludium 4 in D Major, BWV 850
28. Benjamin Alard - Praeludium in D Major, BWV 925
29. Benjamin Alard - Præludium in D Major, BWV 936
30. Benjamin Alard - Allemande* in G Minor, BWV 836
31. Benjamin Alard - Præludium 8 in E-Flat Minor, BWV 853
32. Benjamin Alard - Præludium 2 in C Minor, BWV 847a
33. Benjamin Alard - Præludium in C Minor, BWV 934
34. Benjamin Alard - Præludium & Fuga in C Major, BWV 846
35. Benjamin Alard - Præludium & Fuga XI in F Major, BWV 856
36. Benjamin Alard - Præludium & Fuga VI in D Minor, BWV 851
37. Benjamin Alard - Præludium & Fuga XV in G Major, BWV 860
38. Benjamin Alard - Præludium & Fuga X in E Minor, BWV 855
39. Benjamin Alard - Præludium & Fuga XIX in A Major, BWV 864
40. Benjamin Alard - Præludium & Fuga XIV in F-Sharp Minor, BWV 859
41. Benjamin Alard - Præludium & Fuga XXIII in B Major, BWV 868
42. Benjamin Alard - Præludium & Fuga XVIII in G-Sharp Minor, BWV 863
43. Benjamin Alard - Præludium & Fuga III in C-Sharp Major, BWV 848
44. Benjamin Alard - Præludium & Fuga XXII in B-Flat Minor, BWV 867
45. Benjamin Alard - Præludium & Fuga VII in E-Flat Major, BWV 852
46. Benjamin Alard - Præludium & Fuga XX in A Minor, BWV 865
47. Benjamin Alard - Præludium & Fuga V in D Major, BWV 850
48. Benjamin Alard - Præludium & Fuga XXIV in B Minor, BWV 869
49. Benjamin Alard - Præludium & Fuga IX in E Major, BWV 854
50. Benjamin Alard - Præludium & Fuga IV in C-Sharp Minor, BWV 849
51. Benjamin Alard - Præludium & Fuga XIII in F-Sharp Major, BWV 858
52. Benjamin Alard - Præludium & Fuga VIII in D-Sharp Minor, BWV 853
53. Benjamin Alard - Præludium & Fuga XVII in A-Flat Major, BWV 862
54. Benjamin Alard - Præludium & Fuga XII in F Minor, BWV 857
55. Benjamin Alard - Præludium & Fuga XXI in B-Flat Major, BWV 866
56. Benjamin Alard - Præludium & Fuga XVI in G Minor, BWV 861
57. Benjamin Alard - Præludium & Fuga II in C Minor, BWV 847
ANALYZER: auCDtect: CD records authenticity detector, version 0.8.2
Copyright © 2004 Oleg Berngardt. All rights reserved.
Copyright © 2004 Alexander Djourik. All rights reserved.


FILE: 01. Benjamin Alard - Præludium 1 in C Major, BWV 846a.flac
Size: 6211985 Hash: 9851961123DF3677A02EA05A22CE00CA Accuracy: -m40
Conclusion: CDDA 100%
Signature: CA0FDFF0E2DA2613C2C5B07E2DE2F5372259930E
FILE: 02. Benjamin Alard - Fugue in C Major, BWV 953.flac
Size: 10583841 Hash: 8F8791B161E56E4E26D25D9125BBCF49 Accuracy: -m40
Conclusion: CDDA 100%
Signature: 8D0C5C6F6C319D5F9D9BE0278ED18EC4EBE1BFF9
FILE: 03. Benjamin Alard - Applicatio in C Major, BWV 994.flac
Size: 5540320 Hash: 2868161E6E8AA1113743444E80A97CB3 Accuracy: -m40
Conclusion: CDDA 100%
Signature: 107CE526CF612F42FC373810CC760D6346DF24D2
FILE: 04. Benjamin Alard - Præambulum 1 in C Major, BWV 924.flac
Size: 5349725 Hash: C4C2F096E9DD079EE5A0D110585EB4F7 Accuracy: -m40
Conclusion: CDDA 100%
Signature: 7C5384864227727426BF3C9BB019AD3871F6A538
FILE: 05. Benjamin Alard - Præludium in C Major, BWV 924a.flac
Size: 4116269 Hash: D9889DF9273DF2E1E2844D9B9713195D Accuracy: -m40
Conclusion: CDDA 100%
Signature: A0A8A93500D14A5729FFB96EF0D5197979D4D921
FILE: 06. Benjamin Alard - Præludium in C Major, BWV 933.flac
Size: 10235324 Hash: 98F5C2A10CCD2B763C4E885618C374EA Accuracy: -m40
Conclusion: CDDA 100%
Signature: 900E9E036DA1773830ED14D70A7AB4563F8F6805
FILE: 07. Benjamin Alard - Præludium 12 in F Minor, BWV 857.flac
Size: 10040152 Hash: 48D928377612F62C4D00322F86A4DD15 Accuracy: -m40
Conclusion: CDDA 100%
Signature: 64E56C2C42F06BAE1917FDAAEC319A1CE7770464
FILE: 08. Benjamin Alard - Præludium 11 in F Major, BWV 856.flac
Size: 6663104 Hash: 914A5E2BC47DD043C0105EA91C038CA8 Accuracy: -m40
Conclusion: CDDA 100%
Signature: 30923764182E58CD96B05B69F274F21381693BD3
FILE: 09. Benjamin Alard - Præambulum in F Major, BWV 927.flac
Size: 4300625 Hash: BFCAA1285048E107E63E520D7DC9BF56 Accuracy: -m40
Conclusion: CDDA 100%
Signature: C61E6CCC1CE31A63E2490A50536C9EFCA89AD76B
FILE: 10. Benjamin Alard - Præludium in F Major, BWV 928.flac
Size: 8227860 Hash: 56844522C0BA8D9C957B9A10D803F210 Accuracy: -m40
Conclusion: CDDA 100%
Signature: EC5E2A89EA59AC7CC4E8792D05083F6B0B6380D8
FILE: 11. Benjamin Alard - Præludium 6 in D Minor, BWV 851.flac
Size: 6720584 Hash: 28A3467BB6F818B3658B2AF5E0A250B2 Accuracy: -m40
Conclusion: CDDA 100%
Signature: 78F51849F849E0686B061862D8718E813F44B64C
FILE: 12. Benjamin Alard - Præludium in D Minor, BWV 935.flac
Size: 11415032 Hash: CFAB443997DB2C438EC8855EADBEB1C5 Accuracy: -m40
Conclusion: CDDA 100%
Signature: 0020118632A06D32D0536D387EBF60D9D09D1E60
FILE: 13. Benjamin Alard - ''Jesu meine Freude'' in D Minor, BWV 753 (Chorale prelude).flac
Size: 9865757 Hash: 8124A95FD338825A6956028D2DDCFF59 Accuracy: -m40
Conclusion: CDDA 100%
Signature: 470685B043652470DEAF0483560C5DC2B4B8DBB6
FILE: 14. Benjamin Alard - Præludium 2 in D Minor, BWV 926.flac
Size: 6723442 Hash: 607481CBDB5F8DF4E8C390769B30AD99 Accuracy: -m40
Conclusion: CDDA 100%
Signature: E98EF5926BFE29D76EA911E813152238983D7D71
FILE: 15. Benjamin Alard - Præludium & Fughetta in D Minor, BWV 899.flac
Size: 16484278 Hash: 783DA681F055027E130293BA7EDDC880 Accuracy: -m40
Conclusion: CDDA 100%
Signature: 2D8725A5D813DF5D3639C49BF5A93E837020EF03
FILE: 16. Benjamin Alard - Præludium & Fughetta in G Major, BWV 902a & BWV 902a-2.flac
Size: 14453558 Hash: 74189C97835A575BD1742FF8FCE5DBC7 Accuracy: -m40
Conclusion: CDDA 100%
Signature: 58ED5E43BB058B493C4B5BBDC4A4D63CCB0DFB48
FILE: 17. Benjamin Alard - Præambulum in G Minor, BWV 930.flac
Size: 12135685 Hash: 7D000AC89CCC2BFFED32BEC7F3C3DE54 Accuracy: -m40
Conclusion: CDDA 100%
Signature: 15138229EDE8DC146958A7B02F73182C8DBCC41C
FILE: 18. Benjamin Alard - Præludium 10 in E Minor, BWV 855a.flac
Size: 7515173 Hash: 7248EA79117BD063830FACDE23995F7C Accuracy: -m40
Conclusion: CDDA 100%
Signature: 496CA7AD9F77459051DDEC2969EB1D7DD45CABF0
FILE: 19. Benjamin Alard - Fuga in E Minor, BWV 855a-2.flac
Size: 10070746 Hash: E36E3E36CBD698740695C71DF0232D38 Accuracy: -m40
Conclusion: CDDA 100%
Signature: DB945F9C872C2718A59E284D13F11E130B2F1B8C
FILE: 20. Benjamin Alard - Præludium in E Minor, BWV 938.flac
Size: 13255403 Hash: CC0734220050705D9F37B13BF37E63B6 Accuracy: -m40
Conclusion: CDDA 100%
Signature: BDD3FDDD15C4BF63B8B82865D32082F4C47CBDA9
FILE: 21. Benjamin Alard - Præludium in E Minor, BWV 932꞉ I. Allegro.flac
Size: 4944810 Hash: B28B1B8753DB4148F3FF26E2F2AAF95D Accuracy: -m40
Conclusion: CDDA 100%
Signature: 66ED9A55D4DBAF4113D37775B488767A91F4AE9D
FILE: 22. Benjamin Alard - Præludium in E Major, BWV 937꞉ II. Adagio.flac
Size: 13897422 Hash: 2361529F2362A5939E8860FAB91232BD Accuracy: -m40
Conclusion: CDDA 99%
Signature: A67B9F1BF5B1EAE116C2C09CBA0EDC0CFC023032
FILE: 23. Benjamin Alard - Præludium 9 in E Major, BWV 854꞉ III. Allegro.flac
Size: 9229439 Hash: 1FE1C518774BF098D6088E25DDBB619A Accuracy: -m40
Conclusion: CDDA 100%
Signature: D6AC2D377D1D8EDAFF99B4997E7E9A332EB5DA36
FILE: 24. Benjamin Alard - Præludium 4 in C sharp Minor, BWV 849.flac
Size: 14151963 Hash: AFC79A9CB3A24F597DED16E15D817714 Accuracy: -m40
Conclusion: CDDA 100%
Signature: C2FE4C754C2C46E80E52A0930881841FB52DDEDB
FILE: 25. Benjamin Alard - Præludium 3 in C sharp Major, BWV 848.flac
Size: 9764928 Hash: F8E62A6A76063C584A34163CC22BF949 Accuracy: -m40
Conclusion: CDDA 100%
Signature: 05985BD913398E26DA48FE74929BCE0E6B2D9078
FILE: 26. Benjamin Alard - ''Wer nur den lieben Gott läßt walten'' in A Minor, BWV 691 (Chorale prelude).flac
Size: 9129974 Hash: 510E0D257144B60C47EF3988ACCC7E6A Accuracy: -m40
Conclusion: CDDA 100%
Signature: CDA8737A0D3707B6CFA28C605158CC8A1C1F8638
FILE: 27. Benjamin Alard - Præludium 4 in D Major, BWV 850.flac
Size: 4591542 Hash: B0EEF408A98CE69BEA50213CF0B45070 Accuracy: -m40
Conclusion: CDDA 94%
Signature: 32619CB9D489BA2A555E8DF260B7C3EE8EF65D2C
FILE: 28. Benjamin Alard - Praeludium in D Major, BWV 925.flac
Size: 5904136 Hash: E5F709E456F5C49AF93F730D52F3D42A Accuracy: -m40
Conclusion: CDDA 100%
Signature: 39743090AA4B3C2F9EE179C2F2F24E1E593AFD03
FILE: 29. Benjamin Alard - Præludium in D Major, BWV 936.flac
Size: 12006268 Hash: 52D695148A16D82C3A6CE3443F8F7D32 Accuracy: -m40
Conclusion: CDDA 100%
Signature: 0EA5B72938AC5322FEE6BBB59F70A89FEA5A2316
FILE: 30. Benjamin Alard - Allemande. in G Minor, BWV 836.flac
Size: 11584785 Hash: 9134C39B7BF23BB76BE34B24BA310B69 Accuracy: -m40
Conclusion: CDDA 100%
Signature: AD25B1C32243F7E0A5E5A4FF6D2655710CF5A2C3
FILE: 31. Benjamin Alard - Præludium 8 in E-Flat Minor, BWV 853.flac
Size: 14673801 Hash: 4007E2A2C13C0CFBFACD4356CF5B613B Accuracy: -m40
Conclusion: CDDA 100%
Signature: 4D98AD266C3E4811EBD8FFE86D77C84BB7CCC644
FILE: 32. Benjamin Alard - Præludium 2 in C Minor, BWV 847a.flac
Size: 7443890 Hash: D51486BE2516510F516A02F5D77C40F7 Accuracy: -m40
Conclusion: CDDA 100%
Signature: E8217AF384E1880136C13A268222697EB828E793
FILE: 33. Benjamin Alard - Præludium in C Minor, BWV 934.flac
Size: 12061620 Hash: B84F18192A1454982E3FE65BD8186EB3 Accuracy: -m40
Conclusion: CDDA 99%
Signature: E46F5C36C732E56420A47225BC005E71D79C90D6
FILE: 34. Benjamin Alard - Præludium & Fuga in C Major, BWV 846.flac
Size: 21813621 Hash: 685E6C1A5C95DE487FC80AEE5B7879FA Accuracy: -m40
Conclusion: CDDA 99%
Signature: 78A347E6BD1F8523AA52879574BE574C0ACDF22C
FILE: 35. Benjamin Alard - Præludium & Fuga XI in F Major, BWV 856.flac
Size: 19684564 Hash: 622CE21EE93776BB89FF745867D83BC1 Accuracy: -m40
Conclusion: CDDA 100%
Signature: 828FE721DB969FA40A893AEFBC531B07611818BB
FILE: 36. Benjamin Alard - Præludium & Fuga VI in D Minor, BWV 851.flac
Size: 26023258 Hash: E178DC691F60F920AFD9A0D984186F50 Accuracy: -m40
Conclusion: CDDA 100%
Signature: 0DA49AED263B0418A52B569D1CC57D6B685AFD80
FILE: 37. Benjamin Alard - Præludium & Fuga XV in G Major, BWV 860.flac
Size: 29552061 Hash: D7072B9D3E740BC1B3D4B38A14F2DDF5 Accuracy: -m40
Conclusion: CDDA 100%
Signature: B35D4DC8368FE08B52D59D11A3E99D76202B77E3
FILE: 38. Benjamin Alard - Præludium & Fuga X in E Minor, BWV 855.flac
Size: 26196299 Hash: B699F2CFE55146D807765AD1554234B9 Accuracy: -m40
Conclusion: CDDA 100%
Signature: 41ED1F69F32B391411718FF76BA548BBC513C0C8
FILE: 39. Benjamin Alard - Præludium & Fuga XIX in A Major, BWV 864.flac
Size: 26969534 Hash: 646D5AE7F991C71B8807AF3B1A78A469 Accuracy: -m40
Conclusion: CDDA 100%
Signature: 2C4B7C9A27DFB8D122E77C352DC53AE52D1F1D61
FILE: 40. Benjamin Alard - Præludium & Fuga XIV in F-Sharp Minor, BWV 859.flac
Size: 28504119 Hash: B0B5A686D490D0DE027AC78AD0B0B639 Accuracy: -m40
Conclusion: CDDA 100%
Signature: DAB4A31B3CB4F076C24608CB9DE3D60870434286
FILE: 41. Benjamin Alard - Præludium & Fuga XXIII in B Major, BWV 868.flac
Size: 22980292 Hash: 8D3D40CC403364396E19E5F5179E1BDC Accuracy: -m40
Conclusion: CDDA 100%
Signature: 165DDC6C4D795F1992B2F50A63293598FF97F466
FILE: 42. Benjamin Alard - Præludium & Fuga XVIII in G-Sharp Minor, BWV 863.flac
Size: 28546996 Hash: 6DF56B5C42220C05AD3DB79A7F6C5A53 Accuracy: -m40
Conclusion: CDDA 100%
Signature: 399AE115AAD9679BC4D38214FE1D180CBF009E17
FILE: 43. Benjamin Alard - Præludium & Fuga III in C-Sharp Major, BWV 848.flac
Size: 30214480 Hash: E6A9F75E55CBE3951BACB6F3626A47EC Accuracy: -m40
Conclusion: CDDA 100%
Signature: 4E5B45F15DB4BC4340312853F47392182D0EF104
FILE: 44. Benjamin Alard - Præludium & Fuga XXII in B-Flat Minor, BWV 867.flac
Size: 32551983 Hash: A61572C1D83931888A301F60B92D15BF Accuracy: -m40
Conclusion: CDDA 100%
Signature: 594A207918BE180F3710E25A578D26A7E0EF01DD
FILE: 45. Benjamin Alard - Præludium & Fuga VII in E-Flat Major, BWV 852.flac
Size: 39895146 Hash: 783267818F2A25313CB193B72407AE81 Accuracy: -m40
Conclusion: CDDA 100%
Signature: B43E7AE676BFB15DAF81224F4588D6CF3D93E9F2
FILE: 46. Benjamin Alard - Præludium & Fuga XX in A Minor, BWV 865.flac
Size: 43928146 Hash: 1998A332632E9B33018EEBF3262E3818 Accuracy: -m40
Conclusion: CDDA 100%
Signature: 3EA508295E7BBA0747CC79719EEC6096DB1AC510
FILE: 47. Benjamin Alard - Præludium & Fuga V in D Major, BWV 850.flac
Size: 20834911 Hash: A87187CAD57837BC6325A74952F64355 Accuracy: -m40
Conclusion: CDDA 100%
Signature: 9F33180D0DE34659AA22F5AB67BC18B467D8C639
FILE: 48. Benjamin Alard - Præludium & Fuga XXIV in B Minor, BWV 869.flac
Size: 62945773 Hash: DE3BAC209EBBC338345ADB1395883086 Accuracy: -m40
Conclusion: CDDA 100%
Signature: 200E5FBBBDDDCC3333EB5331C6A11DAAF9592DE4
FILE: 49. Benjamin Alard - Præludium & Fuga IX in E Major, BWV 854.flac
Size: 20140583 Hash: 5F053E33FC4086B21CAC56AFD66573FB Accuracy: -m40
Conclusion: CDDA 100%
Signature: 3BDC02E1496A9D9CBBD4B292650C78B4F0C9A8AF
FILE: 50. Benjamin Alard - Præludium & Fuga IV in C-Sharp Minor, BWV 849.flac
Size: 38425349 Hash: 0F0693529F979C395761DEC7E62B5075 Accuracy: -m40
Conclusion: CDDA 100%
Signature: C50E032D7FE4C94E38B05A0AC545D3EA21B40A74
FILE: 51. Benjamin Alard - Præludium & Fuga XIII in F-Sharp Major, BWV 858.flac
Size: 21676930 Hash: CE9846CA20ACC1C7D26CED9FF1C7922F Accuracy: -m40
Conclusion: CDDA 99%
Signature: 2637D3ECDAD50656C5D8781EE654E8E59ACE845B
FILE: 52. Benjamin Alard - Præludium & Fuga VIII in D-Sharp Minor, BWV 853.flac
Size: 44024487 Hash: C5083C9891152B102C43F940AA4AC353 Accuracy: -m40
Conclusion: CDDA 100%
Signature: E0B77C42C16A0AB1F2A5811F64E56EE52CF8EA16
FILE: 53. Benjamin Alard - Præludium & Fuga XVII in A-Flat Major, BWV 862.flac
Size: 24915026 Hash: DC6EA6C6945AF2AA94AD495707D4E6DC Accuracy: -m40
Conclusion: CDDA 99%
Signature: A9C33524FA689831B007E998318C8F1B885849A0
FILE: 54. Benjamin Alard - Præludium & Fuga XII in F Minor, BWV 857.flac
Size: 38388099 Hash: 54602928B758F236507C9577652957AB Accuracy: -m40
Conclusion: MPEG 91%
Signature: 2405BA5AB53D50B876EF2BEC96C6C18C8F937CB4
FILE: 55. Benjamin Alard - Præludium & Fuga XXI in B-Flat Major, BWV 866.flac
Size: 22424933 Hash: 6EDD8795330CDFF1A0B687AEFF63D955 Accuracy: -m40
Conclusion: CDDA 100%
Signature: E4CD9AC714A178478E5B7EC8503A6BBBA2381747
FILE: 56. Benjamin Alard - Præludium & Fuga XVI in G Minor, BWV 861.flac
Size: 25922251 Hash: 4CC7BF2D65FB3CBC7A3D78D1AB29F567 Accuracy: -m40
Conclusion: CDDA 100%
Signature: 2ADA9D3B439002072EDEFE6F42BA692D953C5267
FILE: 57. Benjamin Alard - Præludium & Fuga II in C Minor, BWV 847.flac
Size: 24527875 Hash: 2E0B821E57C43CBA0DFC99C9FE04311E Accuracy: -m40
Conclusion: CDDA 99%
Signature: 54DD9AFC9714797A1E395C53E3A5CC71F656F0D3