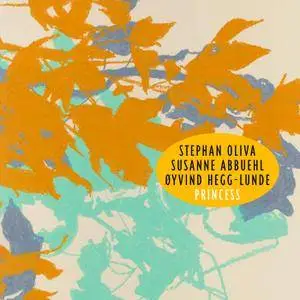 Stéphan Oliva, Susanne Abbuehl & Øyvind Hegg-Lunde - Princess (2017)
FLAC (tracks) 24-bit/44,1 kHz | Time - 49:28 minutes | 500 MB
Studio Master, Official Digital Download | Artwork: Front cover
"Princess" is the first recording for the duo of Stéphan Oliva & Susanne Abbuehl with the great Norwegian drummer and percussionist Øyvind Hegg-Lunde. The album have been released on the French independent label Vision Fugitive. The Trio will be on Tour in 2017 & 2018.
One of the most beautiful albums of 2017
Swiss vocalist Susanne Abbuehl began working with French pianist Stéphan Oliva about fifteen years ago, playing few concerts every year with no rush to document their work. Oliva hosted Abbuehl in his duet album «Miroirs» (Minium, 2006) but only last year invited her to record an entire album, this time as a trio with young Norwegian drummer-percussionist Øyvind Hegg-Lunde, who accompanies Abbuehl in her performances.

Oliva and Abbuehl share a true fascination with the work of composer-reeds player Jimmy Giuffre (1921-2008), a musician who created an exceptional sonic universe of his own, the chamber free jazz of the late fifties and the early sixties that still influences many European schools of jazz. «Princess» was conceived as a tribute to Giuffre, offering fresh arrangements to his compositions, adding new compositions by Oliva and poetic texts by Abbuehl and stressing his seminal influence on other musicians as Keith Jarrett and Don Cherry. «Princess» is also a collaborative project as were the best groups of Giuffre, where the voice, piano and the percussion have equal parts.

Abbuehl direct delivery and sensual-hypnotic phrasing set the introspective tone of this album. Her poetic texts for compositions like «The Listening» or the title-piece deepen the melodic, intimate impact of Giuffre or Oliva compositions. Oliva abstracts her delivery with masterful, poetic depth and commanding elegance while Hegg-Lunde colors the songs with light, rhythmic strokes. Together, the trio distills the emotional energy of these enchanting songs into simple, subtle gestures, playing only the necessary notes and never attempting to show off with sophisticated, dramatic fireworks. Just embracing, holding each other and and join together in a gentle dance They manage to own Giuffre universe with their re-imaginations of rhythmic compositions as «River Chant» and «Mosquito Dance» or the sensual, dream-like «On Your Skin», where the the expressionist playing of Oliva, the charming delivery of Abbuehl and the wise coloring of Hegg-Lunde suggest rare, fragile unity.

The adaptations of Cherry's «Desireless/Mopti» and Jarrett's «Great Bird» (from «Death and a Flower», Impulse, 1975) charge these captivating-rhythmic themes with an exceptional ethereal lightness. Oliva and Abbuehl cover of the standard «What a Wonderful World» strips the song from its innocence and optimism, still, it is one of the best, wonderful, and certainly original interpretation of this song.
Tracklist:
01 - The Listening
02 - River Chant / Tree People
03 - Princess
04 - Trance
05 - On Your Skin
06 - Desireless / Mopti
07 - Mosquito Dance
08 - Winter Day
09 - Great Bird
10 - Jimmy
11 - What a Wonderful World
Musicians:
Stéphan Oliva - piano
Susanne Abbuehl - vocals
Øyvind Hegg-Lunde - percussion
Analyzed: Stephan Oliva, Susanne Abbuehl, Øyvind Hegg-Lunde / Princess
––––––––––––––––––––––––––––––––––––––––

DR Peak RMS Duration Track
––––––––––––––––––––––––––––––––––––––––
DR12 -3.01 dB -20.33 dB 5:34 01-The Listening
DR14 -0.17 dB -19.23 dB 6:31 02-River Chant / Tree People
DR14 -0.38 dB -19.48 dB 6:53 03-Princess
DR13 -1.84 dB -21.10 dB 2:22 04-Trance
DR15 -4.02 dB -24.13 dB 3:31 05-On Your Skin
DR14 -0.64 dB -20.41 dB 5:18 06-Desireless / Mopti
DR21 -0.38 dB -25.86 dB 3:22 07-Mosquito Dance
DR13 -3.66 dB -19.82 dB 5:08 08-Winter Day
DR12 -3.32 dB -21.66 dB 5:04 09-Great Bird
DR13 -5.21 dB -25.98 dB 1:46 10-Jimmy
DR13 -6.49 dB -24.71 dB 3:56 11-What a Wonderful World
––––––––––––––––––––––––––––––––––––––––

Number of tracks: 11
Official DR value: DR14

Samplerate: 48000 Hz
Channels: 2
Bits per sample: 24
Bitrate: 1234 kbps
Codec: FLAC
================================================================================


Thanks to the Original customer!