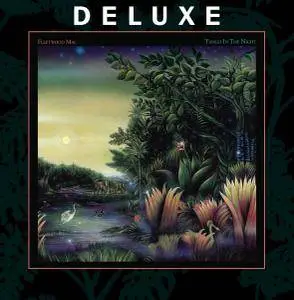 Fleetwood Mac - Tango In The Night (Deluxe) (1987/2017)
Pop/Rock, Soft Rock, Electronic | FLAC (tracks), 24bit/96kHz | 02:58:37 h. | 4,28 Gb (incl. 3%) | Front Cover
Label: Rhino/Warner Bros. | Tracks: 39 | Released: 2017-03-31 (1987-04-13)
"Tango in the Night" is the 14th studio album by British-American band Fleetwood Mac. Released in April 1987, it is the fifth and to date last studio album from the band's most successful line-up of Lindsey Buckingham, Stevie Nicks, Christine McVie, John McVie and Mick Fleetwood. Produced by Buckingham with Richard Dashut, Tango in the Night began as one of Buckingham's solo projects, but by 1985 the production had morphed into Fleetwood Mac's next album. It contains several hit singles, including "Big Love", "Seven Wonders", "Everywhere", and "Little Lies". The album has sold over 15 million copies worldwide. Tango in the Night was re-released with remastered version of the album, B-sides, demos, alternate versions and 14 remixes on March 31, 2017.
Artistically and commercially, the Stevie Nicks/Lindsey Buckingham/Mick Fleetwood/Christine and John McVie edition of Fleetwood Mac had been on a roll for over a decade when Tango in the Night was released in early 1987. This would, unfortunately, be Buckingham's last album with the pop/rock supergroup -- and he definitely ended his association with the band on a creative high note. Serving as the album's main producer, Buckingham gives an edgy quality to everything from the haunting "Isn't It Midnight" to the poetic "Seven Wonders" to the dreamy "Everywhere." Though Buckingham doesn't over-produce, his thoughtful use of synthesizers is a major asset. Without question, "Family Man" and "Caroline" are among the best songs ever written by Buckingham, who consistently brings out the best in his colleagues on this superb album.
~Review by Alex Henderson
Release of this album:
1987, April, 13 [LP Warner Bros. Records, Cat.# 925 471-1, UK & Europe]
Release of this HDtracks edition:
2017, March, 31 [Label: Rhino/Warner Bros.]
℗ 2017 Warner Bros. Records Inc. for the U.S. and WEA International Inc. for the world outside the U.S. Marketed by Warner Strategic Marketing.
© 2017 Warner Bros. Records Inc. for the U.S. and WEA International Inc. for the world outside the U.S.
Credits:
Art Direction – Jeri Heiden
Coordinator [Studio Coordinator] – John Courage
Concept By [Cover] – Lindsey Buckingham, Richard Dashut
Engineer – Greg Droman
Painting [Cover - Homage à Henri Rousseau] – Brett-Livingstone Strong
Photography By [Cover] – Greg Gorman
Producer – Richard Dashut
Producer, Arranged By, Engineer [Additional] – Lindsey Buckingham
Tracklist:
Original Album, Remastered
01. Big Love (03:44)
02. Seven Wonders (03:42)
03. Everywhere (03:47)
04. Caroline (03:54)
05. Tango in the Night (04:03)
06. Mystified (03:10)
07. Little Lies (03:41)
08. Family Man (04:07)
09. Welcome To The Room… Sara (03:42)
10. Isn't It Midnight (04:14)
11. When I See You Again (03:49)
12. You And I, Part II (02:40)
Demos, Alternates And B-Sides
13. Down Endless Street (Remastered) (04:29)
14. Special Kind of Love (Demo) (02:53)
15. Seven Wonders (Early Version) (04:34)
16. Tango in the Night (Demo) (04:42)
17. Mystified (Alternate Version) (03:28)
18. Book of Miracles (Insrumental) (04:32)
19. Where We Belong (Demo) (02:53)
20. Ricky (Remastered) (04:27)
21. Juliet (Run-Through) (05:04)
22. Isn't It Midnight (Alternate Mix) (03:39)
23. Ooh My Love (Demo) (03:51)
24. Mystified (Instrumental Demo) (03:18)
25. You And I, Part II (Full Version) (06:28)
The 12" Mixes, Remastered
26. Big Love (Extended Remix) (06:43)
27. Big Love (House On The Hill Dub) (03:01)
28. Big Love (Piano Dub) (06:37)
29. Big Love (Remix/Edit) (03:41)
30. Seven Wonders (Extended Version) (06:26)
31. Seven Wonders (Dub) (04:34)
32. Little Lies (Extended Version) (06:16)
33. Little Lies (Dub) (04:14)
34. Family Man (Extended Vocal Remix) (08:31)
35. Family Man (I'm a Jazz Man Dub) (08:52)
36. Family Man (Extended Guitar Version) (06:28)
37. Family Man (Bonus Beats) (04:38)
38. Everywhere (12" Version) (05:50)
39. Everywhere (Dub) (03:55)
––––––––––––––––––––––––––––––––––––––––
Analyzed: Fleetwood Mac / Tango In The Night (Deluxe)
––––––––––––––––––––––––––––––––––––––––

DR Peak RMS Duration Track
––––––––––––––––––––––––––––––––––––––––
DR11 -0.56 dB -12.87 dB 3:44 01-Big Love (Remastered)
DR10 -0.10 dB -12.20 dB 3:42 02-Seven Wonders (Remastered)
DR10 -0.13 dB -12.56 dB 3:47 03-Everywhere (Remastered)
DR11 -0.10 dB -12.78 dB 3:54 04-Caroline (Remastered)
DR9 -0.17 dB -13.28 dB 4:03 05-Tango In The Night (Remastered)
DR12 -0.25 dB -13.78 dB 3:10 06-Mystified (Remastered)
DR10 -0.10 dB -12.20 dB 3:41 07-Little Lies (Remastered)
DR10 -0.62 dB -12.32 dB 4:07 08-Family Man (Remastered)
DR11 -0.10 dB -12.93 dB 3:42 09-Welcome To The Room… Sara (Remastered)
DR10 -0.15 dB -11.55 dB 4:14 10-Isn't It Midnight (Remastered)
DR11 -1.79 dB -16.81 dB 3:49 11-When I See You Again (Remastered)
DR10 -0.12 dB -12.17 dB 2:40 12-You And I, Pt. II (Remastered)
DR11 0.00 dB -12.35 dB 4:29 13-Down Endless Street (Remastered)
DR11 -0.02 dB -13.34 dB 2:53 14-Special Kind Of Love (Demo)
DR10 0.00 dB -11.82 dB 4:34 15-Seven Wonders (Early Version)
DR11 0.00 dB -13.75 dB 4:42 16-Tango In The Night (Demo)
DR13 -1.64 dB -16.77 dB 3:28 17-Mystified (Alternate Version)
DR10 0.00 dB -11.52 dB 4:32 18-Book Of Miracles (Insrumental)
DR11 -0.26 dB -13.99 dB 2:53 19-Where We Belong (Demo)
DR11 0.00 dB -12.41 dB 4:27 20-Ricky (Remastered)
DR9 0.00 dB -10.66 dB 5:04 21-Juliet (Run-Through)
DR9 0.00 dB -10.50 dB 3:39 22-Isn't It Midnight (Alternate Mix)
DR9 0.00 dB -10.34 dB 3:51 23-Ooh My Love (Demo)
DR12 -6.80 dB -24.43 dB 3:18 24-Mystified (Instrumental Demo)
DR10 -0.10 dB -13.09 dB 6:28 25-You And I, Part II (Full Version)
DR9 -0.50 dB -11.81 dB 6:43 26-Big Love (Extended Remix) (Remastered)
DR10 -0.13 dB -12.82 dB 3:01 27-Big Love (House On The Hill Dub) (Remastered)
DR11 0.00 dB -12.43 dB 6:37 28-Big Love (Piano Dub) (Remastered)
DR9 0.00 dB -10.17 dB 3:41 29-Big Love (Remix/Edit) (Remastered)
DR10 0.00 dB -11.88 dB 6:26 30-Seven Wonders (Extended Version) (Remastered)
DR11 0.00 dB -13.14 dB 4:34 31-Seven Wonders (Dub) (Remastered)
DR10 0.00 dB -12.39 dB 6:16 32-Little Lies (Extended Version) (Remastered)
DR12 0.00 dB -14.02 dB 4:14 33-Little Lies (Dub) (Remastered)
DR10 0.00 dB -11.46 dB 8:31 34-Family Man (Extended Vocal Remix) (Remastered)
DR10 0.00 dB -12.13 dB 8:52 35-Family Man (I'm A Jazz Man Dub) (Remastered)
DR10 0.00 dB -11.07 dB 6:28 36-Family Man (Extended Guitar Version) (Remastered)
DR11 -0.02 dB -12.86 dB 4:38 37-Family Man (Bonus Beats) (Remastered)
DR11 0.00 dB -13.33 dB 5:50 38-Everywhere (12 Version) (Remastered)
DR13 -0.22 dB -15.19 dB 3:55 39-Everywhere (Dub) (Remastered)
––––––––––––––––––––––––––––––––––––––––

Number of tracks: 39
Official DR value: DR11

Samplerate: 96000 Hz
Channels: 2
Bits per sample: 24
Bitrate: 3207 kbps
Codec: FLAC
================================================================================
All thanks to the original customer

password: BlondStyle