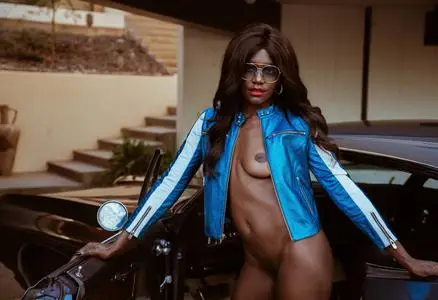 Victoria Antoinette - Madeline Northway Photoshoot
45 jpg | 5304*7952 | UHQ | 375.64 MB
Hop in and go for a ride as
Victoria Antoinette
stars in her third feature from the photographer,
Madeline Northway
, and creative director,
Heather Jones
. On location in Los Angeles, California, Victoria poses alongside a classic car. Originally from Georgia, she recently moved to California to cont inue her career as a model, stylist, and studio manager.
"I just moved to LA in August, and I already feel at home,"
she smiles.
"It brings me joy knowing that opportunities are here."
Since the move, life has been great.
"I absolutely love my life,"
says Victoria.
"I'm passionate about life and inspiring others around me."
For Victoria, being a mother and following her dreams is empowering.
"Playboy means equality. As a woman of color, older than most models, with two children, I was elated to be asked to be a part of the family,"
shares Victoria.
"Female empowerment means showing up and encouraging others."
But what makes Victoria feel her best self is when she is genuinely tending to her needs.
"It also means taking care of yourself. You must know what you need,"
she begins.
"I feel empowered when I am able to get my rest and take care of my needs and wants before anyone else's."
Check out Victoria Antoinette's first two features, too, right here on AvaxHome!