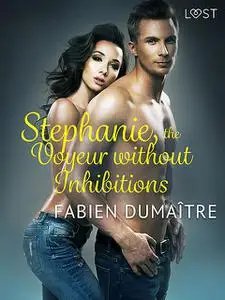 «Stephanie, the Voyeur without Inhibitions – Erotic Short Story» by Fabien Dumaître
English | EPUB | 0.1 MB
«Behind her mirror, Stephanie was bursting with excitement. She felt the blood rush to her head and a gust of hot air escaped her mouth. She wrapped her tongue around her soft, slightly gaping lips. She kept a keen eye; she didn't want to miss a second of this wonderful spectacle.»Stephanie likes having sex herself, but what excites her, even more, is to watch without been seen! What could be more exciting than watching torrid acts while remaining the master of her own pleasure?One night, she decides to invite her best friend to meet her boyfriend: an insatiable Actor X. With Mathilde let herself get caught up in the game? Will she abandon herself in the arms of this exciting partner? And above all, will she allow her friend to watch without participating?Did you enjoy "The Pornstar"? Discover, in the author's second story, the same adventure from the point of view of the second female character.
Fabien Dumaître is a French writer living in Brive-la-Gaillarde in the southwest of France. He is the author of one novel and forty short stories, in a variety of genres like fantasy, science fiction, drama and erotica.