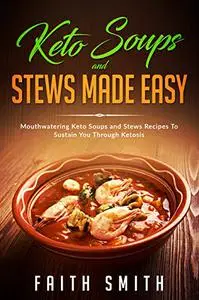 Keto Soups And Stews by FAITH SMITH
English | 2022 | ISBN: N/A | ASIN: B09RT8HMK4 | 150 pages | EPUB | 4.57 Mb
Do you just love soups and stews but the fact that you are on keto diet makes you feel limited because you cannot use your favorite ingredients to make your soups and stews exactly the way you want them?
And are you looking for recipes that will instantly ensure the process of preparing soups and stews and stews is straightforward for you while on the keto diet, without risking getting out of ketosis?
If you've answered YES,
This Book Has More Than Enough Collection Of Mouthwatering Soups And Stews That Will Quench Your Desire For Soups And Stews, Push You Into Ketosis And Keep You There So You Can Keep Your Body Burning Fats Even While Sleeping!
There is something satisfying about greatly made soups and stews that makes it hard to just give up on them, even when you are on a diet like the ketogenic diet. It is easy to wonder; can't I still have my soups and keep my body in a fat-burning mode 24/7?
The answer is a resounding YES!
But what can you use to prepare your soups and stews?
What ingredients will you need to replace and what do you use instead?
Can you have lots of variety to ensure you just don't feel limited or run out of meal options?
This book seeks to address all these and other related questions so keep reading.
In the book, you'll find:
A collection of heartwarming, delicious, and homemade keto soups and stews that are packed with hearty classic and nostalgic ingredients to help you fully adopt the keto diet
Easy to find and nutritious ingredients for preparing each recipe
The preparation time, cooking time, and the number of servings for preparing each recipe
Detailed and easy to follow instructions on how to prepare each recipe
The nutritional value for each recipe so that you can track your macros while you are at it
And much more!
Indeed, it is possible to follow the keto diet plan the right way without having to give up some of your most favorite foods like soups and stews! Even if you've never really liked soups and stews, you will certainly find something here that might change your mind!
Feel Free to contact me for book requests, informations or feedbacks.
Without You And Your Support We Can't Continue
Thanks For Buying Premium From My Links For Support