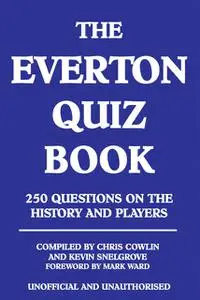 «Everton Quiz Book» by Chris Cowlin
English | EPUB | 0.3 MB
Are you a loyal Everton supporter? Do you consider yourself to be knowledgeable about the all major events from the club's past? If so, why not put yourself to the test with the 250 questions in this quiz book, each one designed to draw out those long forgotten memories of the people and places that have played an important role in the history of the Blues.
With questions on the players, managers, opponents, nationalities, final scores, wins, draws and losses as well as all those unforgettable matches that have made Everton into the team it is today, you won't be able to stop reading.
So, whether you want to impress your mates with some little known facts about the Blues or find out more about the team for your children, The Everton Quiz Book is all you will ever need.
This tribute to the Blues is a must-have for all Everton fans. So read on and find out how much you really know about your favourite football club.