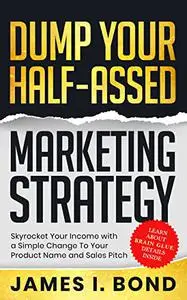 Dump Your Half-Assed Marketing Strategy: Skyrocket Your Income With a Simple Change to Your Product Name and Sales Pitch by James I. Bond
English | 2022 | ISBN: N/A | ASIN: B0B46QTC4G | 245 pages | EPUB | 1.10 Mb
Want an easier way to get people to buy your products and say YES to your ideas? Then you need to keep reading…
People buy for emotional reasons. Yet "emotional selling" is missing from most marketing. That's why so many pros are now using BRAIN GLUE™ to boost the performance of their ads, emails, social media posts, and one-on-one presentations.
"One of the most important marketing books you will ever read!"
-Mike Scotto, Former Div. Director of Marketing, JCPenneyBased on sold-out workshops at the US Small Business Administration.
Are you serious about boosting the performance of your ads? Your social media posts? Your emails? Your one-on-one selling? Then, this will be one of the most important books you read. It's an immersive experience from which you will emerge as a brand new marketer.
Think about it.
What if you could skyrocket your income with a small change to your product name and sales pitch?
Welcome to BRAIN GLUE™, the secret to making your ideas "sticky" so they cling to your prospect's brain like glue, making your ads, emails, social media posts, and one-on-one presentations dramatically more convincing.
Here's how top marketers turn ordinary products into blockbusters (at little or no cost)!
Consider this.
What do the phrase, "If the glove don't fit you must acquit," and the product name, "Squatty Potty," have in common?
More than you probably realize. Both have achieved incredible success by tapping into the right side of their audiences' brains. How can YOU do the same? This is what I am going to show you. I think you'll be surprised at how easy and powerful this can be.The Answer Is "Right-Brain" Selling
Right-brain selling triggers the emotion centers of the brain, where decisions are made, making it easier to get your prospects to say yes to just about any product or idea you have.
Top marketers, attorneys, and politicians depend on it while limiting access, for fear competitors will use it against them.
But that's about to change for you.
Each of the 14 strategies you are about to discover has the power to catapult your results into the stratospheres of success that you've always wanted to reach.
Here's a sampling of what's included:
How a broke entrepreneur skyrocketed his income past giant competitors with a simple change to the name of his product
A trick top attorneys use that transforms fence-sitters into rabid fans
How a woman with no business experience shot past male-dominated competitors by applying uncommon logic to her business
When a "logical" presentation may be the wrong approach to winning sales
Five words that establish instant credibility, even with tough customers
How to avoid "trigger" words that sabotage your ads and sales pitch
A simple twist to WHAT you say that magnifies your power of persuasion
"Shock Words" that stimulate the emotional center of your prospect's brain
How a TURN-OFF can be the greatest TURN-ON for your prospect
Five ways to "surprise" your prospect into buying from you
And more!
All this, divided into 14 strategies you could start using almost instantly.
It's so easy, even grandmas can use it
Besides thousands of professionals, even a team of grandmas implemented just two of these strategies and achieved almost ridiculously high results in a highly competitive market.
That's how easy this is!
Once you experience it, you'll wonder why no one told you about this before!So, if you want an easier way to get people to buy your products and say YES to your ideas…
Feel Free to contact me for book requests, informations or feedbacks.
Without You And Your Support We Can't Continue
Thanks For Buying Premium From My Links For Support