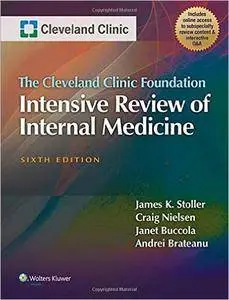 The Cleveland Clinic Foundation Intensive Review of Internal Medicine
HDRips | MP4/AVC, ~6314 kb/s | 1280x720 | Duration: 46:03:02 | English: AAC, 317 kb/s (2 ch) | + PDF Guide
Size: 92,2 Gb | Genre: Medicine
The objective of the course is to provide a comprehensive internal medicine review to prepare you for board certification or recertification exam. The quality and breadth of content is also attractive for individuals needing a comprehensive review of basic internal medicine clinical information. The course features presentations by distinguished members of the Cleveland Clinic staff and eminent visiting guest faculty, who are renowned in their fields of interest. Topics cover current concepts and board-related issues using an organ system approach with emphasis placed on relevant clinical information. Lectures are supplemented by board simulation sessions integrating relevant clinical cases, pathology, and imaging studies.
MULTIDISCIPLINARY TOPICS AND SELECTED BOARD SIMULATIONS
Board Simulation in Health Screening
Board Simulation in Office Orthopaedics
Board Simulation in General Rheumatology
Medical Management of the Pregnant Patient
Board Simulation in Hematology: Cellular Morphology
Board Simulation in Biostatistics
Board Simulation in Pulmonary Medicine
Board Simulation in Women's Health
Update in Perioperative Medicine
Board Simulation in Neurology
Board Simulation in Genetics
Board Simulation in Dermatology
Strategies for Taking the Boards
Dr. Bradley Nelson - The Body Code System 2.0
Spear Online Dentistry Education Videos
DNA Interactive DVD
A Live Autopsy: Anatomy For Beginners - Body Worlds
Hippocrates Health Institute
The Science of Integrative Medicine
Medical School for Everyone: Pediatrics Grand Rounds
Adults and Co-occurring Disorders
American College of Physicians...nal Medicine Board Review 2011
Emergency First-Aid Medical Training
Dоctors in Training 2011 USМLE Step 1
Doctors in Training 2012 USМLE Step 1
Doctors in Training 2013 USМLE Step 1
Doctors in Training 2014 USМLE Step 1
Archer USМLE Step 3 CCS Workshop
Ayurvedic Inheritance of India
Gerald Corey and Robert Haynes - Integrative Counseling
Health Activator Conference Series 2012
Health Activator Conference Series 2013
Heal and Strengthen with Reflexology and Life Lift
Healthy Life Summit 2013
Histopathology by Dr. John Minarcik
How to Kill the Disease-Causing Pathogens in Your Body
How to Operate - For MRCS Candidates and Other Surgical Trainees DVD
Hydrotherapy in Action
First Aid, CPR And AED Standard
New Dr Najeeb Lectures 2014
Наrrisons Principles of Internal Medicine, 18 ed
KISSPharm Keeping It Simple Series for the USMLE, COMLEX, NCLEX
Карlan Clаssroom Аnywhere Stеp 1
McDougall's Medicine: Fighting the Big Fat Lies with Fad-free Truth
The Starch Solution
Become a Pharmacy Technician
Basic First Aid Training
Blunt Force Trauma First Aid
Gunshot Wound First Aid
Knife Wound First Aid
SketchyMedical Videos
Biofeedback Pactitioner Training
Dr. Terry Oleson - Auriculotherapy Training
Complete Human Anatomy Primal 3D Interactive Series
ADAM Interactive Anatomy 3.0
Mood Disorders: Complete Series
Basic Procedures in Shoulder Arthroscopy
Understanding Bipolar Disorder and Addiction
Understanding Obsessive Compulsive Disorder and Addiction
Preventing Relapse
Understanding Suicide and Addiction
Understanding Major Anxiety Disorders and Addiction
Treating Co-occurring Disorders
Understanding Post Traumatic Stress Disorder and Addiction
Understanding Personality Problems and Addiction
First Aid: Save a life in 1 hour
Doctors In Training - Solid Internal Medicine
Doctors In Training - Solid OB...">No mirrors pls!