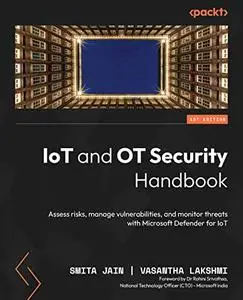 IoT and OT Security Handbook
by Jain, Smita;Lakshmi, Vasantha;Srivathsa, Rohini;
English | 2023 | ISBN: ‎ 1804619809 | 172 pages | True PDF | 22.43 MB

Leverage Defender for IoT for understanding common attacks and achieving zero trust for IoT and OT devices
Purchase of the print or Kindle book includes a free PDF eBook
Key Features
Identify and resolve cybersecurity challenges in the IoT and OT worlds
Familiarize yourself with common attack vectors in the IoT and OT domains
Dive into Defender for IoT, understand its capabilities, and put it to practice
Book Description
The Fourth Industrial Revolution, or Industry 4.0, is all about digital transformation, manufacturing, and production. The connected world we live in today, including industries, comes with several cybersecurity challenges that need immediate attention. This book takes you through the basics of IoT and OT architecture and helps you understand and mitigate these security challenges.
The book begins with an overview of the challenges faced in managing and securing IoT and OT devices in Industry 4.0. You'll then get to grips with the Purdue model of reference architecture, which will help you explore common cyber attacks in IoT and OT environments. As you progress, you'll be introduced to Microsoft Defender for IoT and understand its capabilities in securing IoT and OT environments. Finally, you will discover best practices for achieving continuous monitoring and vulnerability management, as well as threat monitoring and hunting, and find out how to align your business model toward zero trust.
By the end of this security book, you'll be equipped with the knowledge and skills to efficiently secure IoT and OT environments using Microsoft Defender for IoT.
What you will learn
Discover security challenges faced in IoT and OT environments
Understand the security issues in Industry 4.0
Explore Microsoft Defender for IoT and learn how it aids in securing the IoT/OT industry
Find out how to deploy Microsoft Defender for IoT along with its prerequisites
Understand the importance of continuous monitoring
Get familiarized with vulnerability management in the IoT and OT worlds
Dive into risk assessment as well as threat monitoring and hunting
Achieve zero trust for IoT devices
Who this book is for
This book is for industrial security, IoT security, and IT security professionals. Security engineers, including pentesters, security architects, and ethical hackers, who want to ensure the security of their organization's data when connected with the IoT will find this book useful.
Table of Contents
Addressing Cybersecurity in the Age of Industry 4.0
Delving into Network Segmentation-Based Reference Architecture – the Purdue Model
Common Attacks on IoT/OT Environments
What Is Microsoft Defender for IoT?
How Does Microsoft Defender for IoT Fit into Your OT/IoT Environment/Architecture?
How Do the Microsoft Defender for IoT Features Help in Addressing Open Challenges?
Asset Inventory
Continuous Monitoring
Vulnerability Management and Threat Monitoring
Zero Trust Architecture and the NIST Cybersecurity Framework