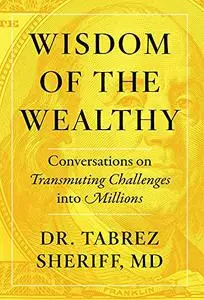 Wisdom of the Wealthy: Conversations on Transmuting Challenges into Millions by Tabrez Sheriff
2021 | ISBN: 1544521103, 154452109X | English | 186 pages | EPUB | 1 MB
If you have lost faith in the American dream, this book is your blueprint, secret, and guide to prosperity.
Wisdom of the Wealthy tells the story of three US immigrants. Two grew up so poor they were humiliated and reviled even by their own schoolteachers. The third gave up everything he had to save the woman he loved from an honor killing.
On a camping trip, the three men shared the stories of their lives–and how they each used their early challenges to become profoundly wealthy. Today, one provides free healthcare for more than a million families living below the poverty line.
Each of these men harnessed the power of their personal tragedies to achieve success. Join Dr. Tabrez Sheriff as he shares their wisdom, showing you step by step how to find your higher purpose and turn your own challenges into wealth, freedom, and the power to change the world.