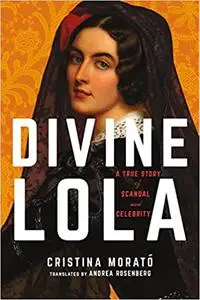 Cristina Morató, Andrea Rosenberg, "Divine Lola: A True Story of Scandal and Celebrity"
English | 2021 | ISBN: 1542025117, 1542025095 | 448 pages | AZW3 | 3.5 MB
An enthralling biography about one of the most intriguing women of the Victorian age: the first self-invented international social celebrity.
Lola Montez was one of the most celebrated and notorious women of the nineteenth century. A raven-haired Andalusian who performed her scandalous "Spider Dance" in the greatest performance halls across Europe, she dazzled and beguiled all who met her with her astonishing beauty, sexuality, and shocking disregard for propriety. But Lola was an impostor, a self-invention. Born Eliza Gilbert, the beautiful Irish wild child escaped a stifling marriage and reimagined herself as Lola the Sevillian flamenco dancer and noblewoman, choosing a life of adventure, fame, sex, and scandal rather than submitting to the strictures of her era.
Lola cast her spell on the European aristocracy and the most famous intellectuals and artists of the time, including Alexandre Dumas, Franz Liszt, and George Sand, and became the obsession of King Ludwig I of Bavaria. She then set out for the New World, arriving in San Francisco at the height of the gold rush, where she lived like a pioneer and performed for rowdy miners before making her way to New York. There, her inevitable downfall was every bit as dramatic as her rise. Yet there was one final reinvention to come for the most defiant woman of the Victorian age―a woman known as a "savage beauty" who was idolized, romanticized, vilified, truly known by no one, and a century ahead of her time.