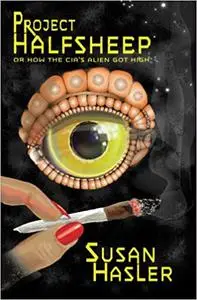 Susan Hasler, "Project HALFSHEEP: Or How the CIA's Alien Got High"
English | 2015 | ISBN: 0996577920 | 398 pages | EPUB | 0.39 MB
The lords of a dying planet send Piyat, a terrified "volunteer," on a voyage across the universe. The reluctant alien crashes in the fear-washed landscape of Cold War America near the site of the nation's first nuclear test. Captured by the Army and stolen by the CIA, she falls into the hands of a guilt-ridden ex-operative, a psychiatrist with a lust for pharmacology, and an Agency golden boy gone wrong. They turn her into the centerpiece of Project HALFSHEEP, a Top Secret program to test mind control drugs. But Piyat is not so easy to control. PROJECT HALFSHEEP is a darkly funny blend of science fiction and political satire informed by the real-life excesses of the CIA in its earliest years.